In the first of Pucked in the Head's Hockey Songs series, we look in depth at the Tragically Hip's Fifty-mission Cap. Thanks to our musical guest, Jamie Macdonald, guitarist and vocalist from the Orchid Highway.
Intro
Welcome to Jamie Macdonald
Sofa Surfer Girl by the Orchid Highway
The Tragically Hip
Early Hip – New Orleans is Sinking
Fifty-mission Cap
Hockey History 101 – Bill Barilko
A little musical analysis
That's a wrap
Fifty-mission Cap redux
Thanks for listening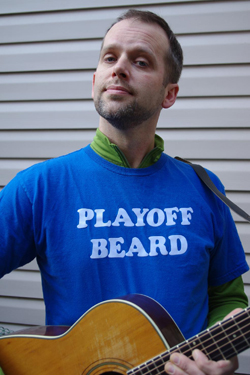 James Macdonald
Right Wing (Guitar, Stage Left)
182 cm
75 kilos
Shoots left
Not afraid to go hard in the corners
Guitarist for Vancouver-based rock band The Orchid Highway, 'Jamie' is a grizzled veteran of many tours across Canada, the US, and the UK. (They took their sticks on tour for the shinny games!) A fan of the game, he began cheering for Swedes back in the WHA Winnipeg Jets days, and was overjoyed when Vancouver drafted the Sedins 2nd and 3rd overall. An opinionated bastard, Jamie always has something to say.
Podcast: Play in new window | Download