As regular listeners of this podcast will be well aware, we at Pucked in the Head believe that life isn't solely about hockey. It's also, occasionally, about hockey music. Here is the third chapter in our look at excellent hockey-related music. Today we ponder, peruse and play… (I Feel Like) Gerry Cheevers by Chixdiggit.

Intro
Sofa Surfer Girl by The Orchid Highway
Gerry Cheevers – the man of a thousand stitches
Chixdiggit
I Feel Like Gerry Cheevers by Chixdiggit
A little critical review action
Wrap up
Time for a Change by The Orchid Highway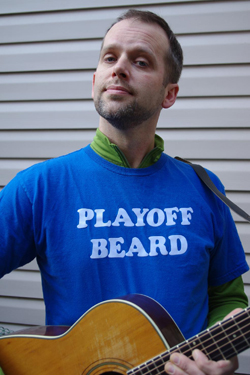 James Macdonald
Right Wing (Guitar, Stage Left)
182 cm
75 kilos
Shoots left
Not afraid to go hard in the corners
Guitarist for Vancouver-based rock band The Orchid Highway, 'Jamie' is a grizzled veteran of many tours across Canada, the US, and the UK. (They took their sticks on tour for the shinny games!) A fan of the game, he began cheering for Swedes back in the WHA Winnipeg Jets days, and was overjoyed when Vancouver drafted the Sedins 2nd and 3rd overall. An opinionated bastard, Jamie always has something to say.
Podcast: Play in new window | Download