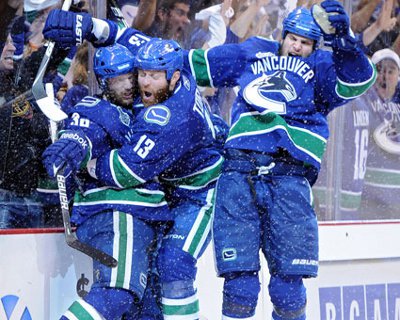 The off-season may have felt like an eternity, but it was actually several weeks shorter than Vancouver fans are used to. Either way, the Canucks end the wait for meaningful hockey with a Thursday night season opener against the Sidney Crosby-less Pittsburgh Penguins. Pucked in the Head looks at Seven Things that suggest Canuck fans should temper their enthusiasm for a month or so.1. Vancouver has an unusually difficult October schedule. Four of their eleven October games will be played against tough Eastern Conference opposition. Pittsburgh, Philadelphia, Washington and the New York Rangers will all be looking to test themselves against the defending Presidents' Trophy winners. Add in games against the always-strong Red Wings and the ever-boring Predators, and the Canucks will find easy points hard to come by in the opening month.
2. The Canucks took an unorthodox approach to the pre-season this year. Given that they played hockey for two to eight weeks more than most other teams last post-season, the Canucks bent the rules to ensure their regulars got as little exhibition action as possible. NHL rules dictate a minimum of eight regulars must dress for every pre-season game. To skirt this, the Canucks brought in the likes of Owen Nolan, Todd Fedoruk, Anders Eriksson and Manny Legace on tryouts to meet that requirement. This allowed the players Canucks management actually expected to make the team to work on their conditioning. The practical upshot of all this is that the Sedins and the top defencemen have seen only two Canucks pre-season tilts. Timing, speed, game sense; no matter how hard you practise these things, it takes games to bring 'em up to scratch.
3. A by-product of that short pre-season is that Alain Vigneault hasn't had a chance to try all twenty-three players on the active roster in every imaginable line combination. Alain is, at times, a bit of a line juggler and the combination of injuries to top-six forwards and off-season personnel turnover means we could very well see frequent changes to the forward combinations and an accompanying lack of chemistry until things settle down.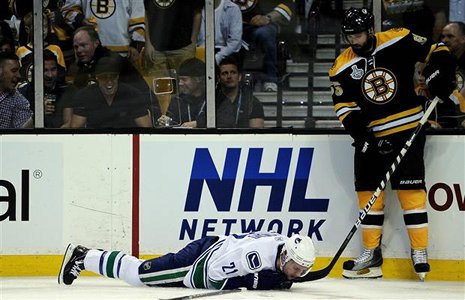 4. Mason Raymond will be out for a long while yet, still feeling the effect of Johnny Boychuk having introduced his spine to the boards of the TD Bank Garden in Game Four of the Stanley Cup Final. Whether you view Raymond as a young guy with offensive upside just entering his prime, or a dud who won't be improving much more and hasn't demonstrated that he could score in a brothel, his speed is undeniable. Even without putting the puck in the net on a regular basis, he gives defencemen fits with his ability to jet to the outside – this gives 40-goal scorer Ryan Kesler more room in the middle of the ice. There is still no timetable for Raymond's return, and the Canucks have fewer options for stretching defences and getting in on the forecheck while he's out.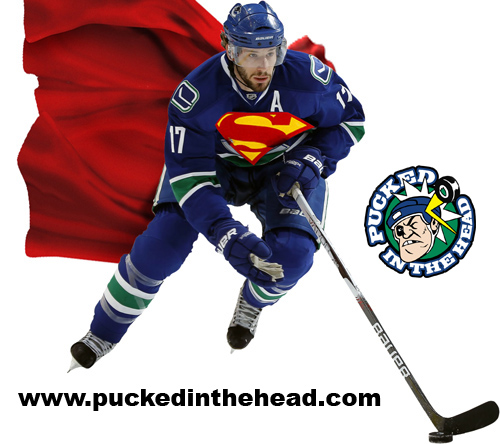 5. Also out for at least the first month is Kesler. The season opener will be the first game the Selke trophy winner has missed for Vancouver since the 2007-08 season. The major concern for Canucks fans is that even should he return in early November, as he says he wants to, recovery from hip surgery is an arduous trek. Look no further than the struggles Keith Ballard had last year after a similar off-season procedure. If Kesler's progress follows a similar curve, Vancouver may not see him in top form until the middle or end of the season.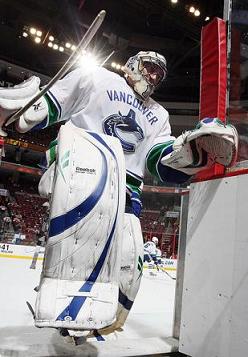 6. While the Canucks boast one of the top goaltenders in the league, Roberto Luongo's two Vezina nominations have come despite slow October starts. Luongo's Octobers have been maddeningly consistent since his acquisition; his save percentage in the month of October is .908 – a full 21 points below his career .929 average with the Canucks. He'll have to find his form quickly this season as the Canucks defence and goaltending will be relied on heavily in Kesler's absense.
7. The Canucks second line looks to consist of an incredibly streaky Swede, an oft-injured German and a rookie Canadian who's yet to prove himself at this level. Mikael Samuelsson claims to be back to form after last season's sports hernia surgery – when he's on, he's unstoppable, but he has had periods of near invisibility over the past two seasons. New addition Marco Sturm has 14 NHL seasons under his belt, but has missed significant parts of the last three seasons with a variety of injuries (so much so that he was the property of three different teams last season – he played just 35 games, 17 for the LA Kings and 18 for the Washington Capitals). Cody Hodgson is finally getting his shot with the Canucks, and will likely be given the opportunity to fill the second-line centre hole in October. Alain Vigneault has shown little to no patience with the prospect thus far, however. If this band-aid unit doesn't click immediately, Vigneault is apt to kick Hodgson down to a third or fourth line role and replace him with someone less offensively talented.