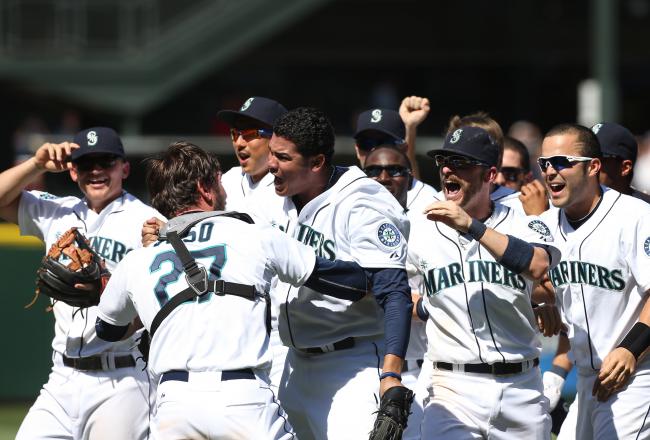 With the Stanley Cup Playoffs getting underway tonight, you'll be getting your fill of hockey coverage on Pucked in the Head, don't you worry. We've had a smattering of baseball coverage on the site before, but it's all focused on the Toronto Blue Jays, and screw Toronto. Today, new PitH correspondent John Stewart takes a look at some ball a little closer to Vancouver with an update from the Emerald City.
Ladies and gentlemen, your 2013 Seattle Mariners.
As of Tuesday, April 30:
W-L: 12-18
Injuries: Saunders, Gutierrez (yes, again), Morse, Pryor
So why are you reading about baseball on a blog whose title certainly suggests a fondness for hockey? Because Jason Kurylo asked me to write about the Mariners. And whatever Mama wants, Mama gets. Or something.
Here you go.
I grew up in Seattle, and I'll try to provide some roundup and insight on the team every two weeks. Highlights (though they may be few this season), lowlights (and they may be many) and everything in between. If there's a burning question about the team or the game (or some other team which might actually make the playoffs) I'll do my best to answer. But for now, here's what we know.
Felix Hernandez is still amazing. Hisashi Iwakuma is proving to be the smartest move the Mariners made in the off-season, finger blister notwithstanding. The rest of the starting rotation does not inspire great confidence, although Brendan Maurer has upside, and won his last start against a pretty decent Angels lineup. The bullpen has been pretty solid.
Offensively? Well…there's not a lot of great news here. Morse was off to a hot start but got hurt. Saunders was playing solid ball and got hurt. Gutierrez…I love the guy, but you can't bank on him playing more than half the season at best.
It seems pretty clear that Justin Smoak is not working out, but there's really nobody in Tacoma to bring up, and I doubt he has any real trade value. So we're probably stuck with him for the rest of the season. Dustin Ackley sure looked like a can't fail draft pick, but he's just not hitting the ball well at all. More on him in a future piece. Kendrys Morales seemed like a good pickup but his bat has cooled off significantly. And Jesus Montero…for a guy who really has no future as a catcher, he sure needs to start hitting the baseball.
Really, the only strong offensive story is Kyle Seager, who's doing a fine job at the hot corner and is pretty much the only major-league caliber hitter on the team right now. And this from a guy who wasn't on any radar screens when he joined the team. Baseball's a funny game that way.
Lest you mistake my pessimism for cynicism – it is still early in the season. This team is not as bad as they have played so far this season — the recent three-game win streak suggests there are better things to come. They are not a playoff quality team, but they should be able to play .500 ball. I would not, however, suggest betting your life savings on that one.