Seven Things: 5 May 2011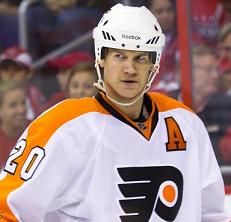 1. Yesterday, Broad Street's biggest bully, Chris Pronger, sat for the seventh time in this playoff. Hockey players are renowned for attempting to play through just about anything, as evidenced by Darryl Boyce only missing one regular season game when he nearly amputated his own nose, Mario Lemieux famously having teammates tie his skate laces before scoring four points during a Pittsburgh Stanley Cup run, or Manny "One-Eye" Malhotra's recent experimentation with echolocation. Chris Pronger's absence has been a far bigger deal in this series than any menage-a-trois in the Philly crease. The B's just aren't scared to go to the slot – with him in the lineup, that fear is always there. For a guy like Prongs to sit while his team goes down three-bagel, he's got to be pretty much paralyzed from the chest down.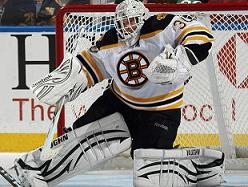 2. The Bruins must be the most nervous 3-0 leader in a playoff series outside of Dion Phaneuf on his PlayStation. Last year they were up by a field goal against these very same Philadelphia Flyers, and collapsed under the weight of it all. Philly dominated play from puck drop in game four, relying on a "one goal at a time" mindset and the deepest roster in the Eastern Conference. Chris Pronger was healthy, and logged just under twelve thousand minutes per game. He hit everything that moved, and quarterbacked a monster power play. Mike Richards leveled Bruin forward David Krejci and forced him out of the playoffs with a devastating neutral zone hit – many called it the turning point of the series. Simon Gagner came back from a broken toe to lead the Flyers in their remarkable comeback. Last year, Tukka Rask dropped the ball for the Bruins – this year, Tim Thomas looks much more comfortable with the pressure of playoff hockey, despite the constant danger of him falling and breaking a hip. The 2011 Bruins don't look like the fragile team that became the third team in history to blow a series after winning the first three. Philadelphia? Pronger's out, Richards is playing on the limp, Carter's hurt as often as not… Gagne's still winning four straight, only it's with the Bolts against the Caps. Nope, the Bruins don't seem breakable at this point; they look more like their 1977 counterparts, who also led the Flyers 3-0. Those Bruins, in fact, completed the sweep. Don't be surprised if this bunch does as well.
(Article continued after the following sports-related ad content, which you really ought to read.)
---
Vancouver-based fanzoo offers signed memorabilia for reasonable prices. You know, if you're into that kind of thing. Howzabout a signed, framed Alex Burrows 8×10 for under two hundred bucks? Give 'em a looksee. And if you pull out the plastic, tell 'em Pucked in the Head sentcha.
---
(Okay, now back to your regularly scheduled chicanery.)
3. The Vancouver Canucks have held their own fate in their hands this year. In playoff games where the team comes to play, they have six wins and one loss (game six against the Chicago Blackhawks). In games where they expect to score by reputation alone, and pray Roberto Luongo holds fort under siege, they are an unsurprising 0-3. It's understandable for Vancouver to give up a game early in the Nashville series – every game against the Hawks saw beta blocker stock prices soar. Games against the Predators are snoozefests for everyone except Barry Trotz, Jacques Lemaire and my grade nine prom date, who thought "getting to second base" meant "holding hands. Maybe." Now that we're three games in, however, they need to prove they deserve the accolades earned during the regular season. Nashville doesn't have the horses to run with Vancouver; the only way Music City takes another game is if the Canucks wrap it up with a bow of ennui and hand it over.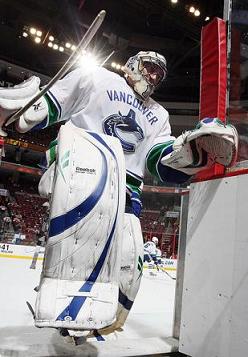 4. Henrik Sedin's obvious discomfort during game 3's pre-game skate and TV time outs confirms the fact that he's playing with an injury. A hip problem, perhaps, or back spasms, the team isn't about to let us know. But since the third game of the Chicago series, the elder twin just hasn't been himself. Nashville victimized him twice in game three: he let David Legwand again on the tying goal with under seven minutes left in game three; on a crucial faceoff in the Vancouver zone, Henrik lost position on Legwand, who pushed the puck forward into the boards; Joel Ward took the puck around the net and tried for a weak wraparound. You can't blame #33 for the fact that the puck bounced in off of Ehrhoff's skate, but you can certainly question his choice to merely stick check Ward on the play. He's always been guilty of the lazy hooking penalty in the offensive zone – but Hank was a +26 in the regular season, and is a +158 in regular season games in his career. After three games against the Hawks he was +3; since then he's gone -9 and the Canucks have lost one more game than they've won.
5. Ryan Kesler is being touted as the Canucks MVP after finally getting off the schneid with two goals in game three against Nashville. Sure, his defensive role against Jonathan Toews, his grit and his penalty killing have all been outstanding. But is Kesler, who prior to game three of round two only had five assists and exactly zero goals, really outshining Roberto Luongo? Bobby Lou may have had a brain cramp or two against Chicago, but the entire team had left him out to dry on those nights. His play behind teams that show up has been inspired. Two shutouts so far in the playoffs. Only five goals against in his last four games. Luongo is the rock upon which the suddenly goal-starved Canucks are building this playoff run. Barring a string of two-goal games for #17, this pundit taps the goaltender for the Conn Smythe if the Canucks raise Lord Stanley's mug in a month's time.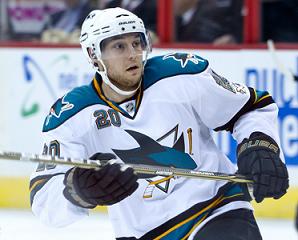 6. The San Jose Sharks must be thanking their lucky stars that the Canucks didn't re-up Kyle Wellwood last off-season. The best player for Vancouver in both of their second-round exits at the hands of the Hawks, Wellwood ended up with no contract offer after the July 1 UFA deadline. He went to Russia, where he did his usual early season nothing. When did the Sharks turn their season around? Around the time they signed the greasy Wellwood. Gone are the Well-Fed jokes that plagued him in Vancouver. This guy was a +10 in his 35 games with San Jose, kick-starting the likes of Marleau, Thornton and Pavelski. He even shamed Heatley into some defensive play down the stretch. Oh, and this playoff? He's sixth in the league with a +6 rating, & he's getting second- and third-line minutes. His creativity has given both the Kings and Red Wings fits.
7. The Washington Capitals looked pretty dangerous in the second half this year. So much so that they rocketed from third in the Southeast Division to first in the Eastern Conference by season's end. Gone were Alex Ovechkin's selfish lounge parties near the opposition blueline; now he was backchecking, even passing the puck. Just as Sidney Crosby learned to score the big goal last season, OV8 taught himself to be a setup man this year. When they rolled over a pesky Rangers team in five games, the Caps looked ready for a deep run – like Philly last season, they looked to do so despite uncertain goaltending. Tampa Bay spoiled the party by advancing to the Eastern Conference final by unceremoniously sweeping the Caps – SWEEPING, mind you – in their first playoff appearance in five seasons. The last time they reached the Conference final, in 2004, they won the Cup. Bolts keeper Rip Van Roloson has been to a Cup final himself, winning twelve playoff games with the 2006 Edmonton Oilers. Look for Rogaine and Viagra commercials should he and eleventy-one-year-old Tim Thomas meet in the third round. Mark Recchi can bring the prune juice.