Add another one to the list. Last night, the Vancouver Whitecaps' improbable streak of failing to win the Voyageurs Cup stretched to 13 years when Joe Bendik made the only save of a penalty shootout to send Toronto FC through to the finals against the Montreal Impact.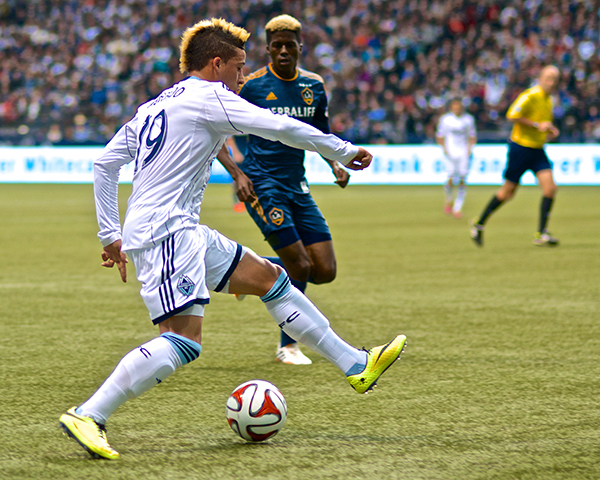 There's a weird vibe amongst Whitecaps fans following the loss. Of course there's the odd person here and there who is angry we didn't play our best eleven. Even rarer are the folks who are glad we lost because they'd rather we focus on the league. By and large, Whitecaps fans are more disappointed than angry, and proud as hell of the team.
There's none of the outrage that followed the 2009 competition, when Montreal's B team rolled over for Toronto after Vancouver had all but won the Cup. There are no torches and pitchforks being gathered for the CSA, as there were after the infamous rainout of 2011. Nobody's ripping the manager a new one, as they did to Martin Rennie when he had nobody on one of the posts during the corner that led to the winning goal in 2013.
There's barely even anyone ripping the refs, despite a questionable game from one of the linesmen that saw a free kick called back for not being kicked out of the 18-yard box (that's goal kicks, dumbass!) and, more importantly, saw Doneil Henry's goal count, even though he was offside.
It all speaks to Carl Robinson, and the trust that he inspires in players and fans alike. Despite less than half a season in charge, there is a sense that he's already earned the benefit of the doubt from most. He has yet to make anything approaching a serious error during his tenure. Even his decision to start THREE (!!) players still eligible for the U18 residency squad in the first leg of the semifinal worked out alright, as they held a full-strength TFC to only two goals, and snatched one of their own. Maybe that's why we're not so down, despite the loss. We now have a manager who's willing to show us what the future holds. We saw last night that our B team can hang in there with, and sometimes even dominate, a middle-of-the-pack MLS side. When Marco Carducci saved the game for us in extra time, when Russell Teibert put in a competent 38-minute shift at left back, a position he's never played for the Caps, we saw glimpses of how good this team is going to be in a few years. How good they already ARE. I walked away from previous Voyageurs Cups feeling dejected and screwed. I walked away from this one anxious for the next one to start.
So yes, we added "play a young squad that plays their hearts out and falls one penalty short" to the list of ways we've managed to lose this competition. But for the first time since I became a Whitecaps fan, I feel optimistic about the direction the club is heading.