Dear Canucks Fan,
You have no doubt become aware of this, yet I still feel it necessary to warn you that the hockey team you follow is terrible. Languishing low in the league, Vancouver, despite its stated intention of competing for a playoff spot, seems instead destined to once again offer its fans the cold consolation  of a lottery pick.
(My apologies for the Lemony Snicket-style alliteration, I'm just really excited for Neil Patrick Harris as Count Olaf.)
A high draft pick would be more comforting to the fan base if it were apparent that the club had the slightest idea what it was doing. After all, we were well-prepared for a down season, with many outlets offering the worst odds on Vancouver to make the playoffs. Instead, we are presented with a series of baffling decisions that could scarcely be more effective at prolonging the suffering of the Canuck faithful.
This blog has criticized many of the coach's decisions before, and the ridiculousness that is Vancouver's current front office has been artfully dissected elsewhere, so we will focus today on one recent Canuck foible, and it is one which I am entirely unsure on whom to place the blame.
One of the few bright spots in the organization right now is elite goaltending prospect Thatcher Demko. After a middling professional start in Utica earlier this year, Demko has recently been lights out, posting a .945 save percentage in his last six games for the Comets. Now, from recent comments made about another promising youngster, Jake Virtanen, we know that the Canucks feel it is of primary importance that young players play lots of hockey, regardless of the level. It therefore stands to reason that the Canucks would want to leave the man with the hot hand in a position to continue his stellar play.
If only the club itself stood to reason.
Two days ago, to replace the injured Ryan Miller, the Canucks called up Demko for his first stint in the show. Perfect timing, everyone thought, since the club was about to play back-to-back on the road in Florida and Washington. New strategies often take a while to percolate through the conservative ranks of NHL coaches, but one that's been adopted with surprising speed is to never, ever start a goalie on back-to-back nights. Just don't do it. Fatigue sets in and their numbers fall off a cliff on the second night. So what does our analytics-averse clown show of a club do? They pull Demko out of Utica where he was just hitting his stride, put him into a situation where he could amp up the fan base in the middle of a terrible season, and proceed to sit him on the bench while Markstrom starts back-to-back and looks predictably slow in a 3-0 loss to the Capitals. What a waste.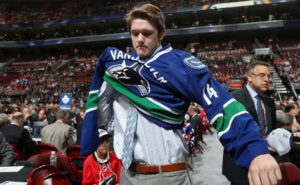 Now whose fault is this? Willie Desjardins gets a share of the blame, obviously, for starting Markstrom when he shouldn't. But Jim Benning either didn't know or ignored the coach's plans and called up Demko instead of a more appropriate bench-warming gate opener like Michael Garteig.
This is certainly not the only gaffe, or even the largest, that the Canucks brain trust has made this season. See Loui Eriksson's contract, or Jayson Megna playing with the Sedins, or pretty much anything to do with the deployment of Bo Horvat. It's just the most recent, and it's further evidence that for the club to move forward, any player personnel decisions are secondary to getting rid of a GM and coach duo who are proving again and again to be unfit for their jobs.