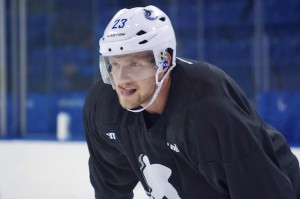 The Vancouver Canucks signed Alex Edler to a six-year, $30-million contract extension on the eve of the shortened 2013 season, according to General Manager Mike Gillis.
The move means two big things for the Canucks: 1) the team medical staff is confident that Edler's back is 100%, despite spasms and pains that kept him out of a number of games over the past two seasons. And 2) Vancouver will continue to have one of the deepest bluelines in the league for the foreseeable future.
More after the jump.

As of the morning of game number one, the Canucks have nine NHL defensemen under contract and ready to play: Kevin Bieksa, Dan Hamhuis, Jason Garrison, Alex Edler, Keith Ballard, Andrew Alberts, Cam Barker, Jim Vandermeer and Chris Tanev. The first five of those fellas are now locked up for at least three more seasons.
Of course, "the deepest team in the league" has been bandied about regarding the Canucks for a couple of seasons, but it's been late-season injuries that have come to haunt them in the playoffs. Hamuis, Edler and Sami Salo all missed key games last year to weaken the back end. Aaron Rome famously got suspended for the majority of the Stanley Cup Final against the Boston Bruins in 2011, and Keith Ballard is continually flirting with coach Alain Vigneault's dog house.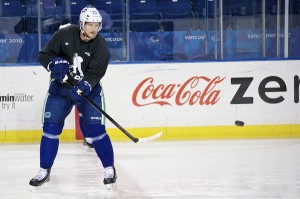 Up front, Ryan Kesler has had his Superman cape taken away by hip, wrist and shoulder injuries, Daniel Sedin has suffered back problems and a concussion, and Mason Raymond had a frickin' broken back. That "deepest team" was hit hard by injuries at the wrong times. This year, those lost man games will come to start the season: Kesler is still rehabbing after a pair of off-season surgeries, and David Booth is gone for at least a month with a groin strain. In a 48-game season, especially with that horrid loser point for OT or SO losses, the team can't afford a lengthy offensive lull. As a result of that worry, Vandermeer may see action as a forward in the first few weeks of the season. His toughness will help open up some room for finesse players like Raymond or Andrew Ebbett.
Hurt players should not be an excuse. In the past 15 years, we've seen great teams in Detroit, Colorado and Pittsburgh win despite injuries to their top players. Unfortunately, the Canucks have not been able to do so in the post-season. It will be interesting to see how they deal with a short, fast schedule without some key components on the bench.
Prediction: Vancouver will still win the Northwest Division — Calgary and Colorado are still gong shows, and Edmonton will almost certainly give up more goals than their exciting young offense can score. Minnesota, with that defensive style and new additions in Zach Parise and Gary Suter, is the only wildcard, but I'm betting the Wild don't improve enough to threaten Vancouver's stranglehold on this division. The Canucks needed 82 games to pull out their second straight Presidents' Trophy last year. Unless they gain some serious secondary scoring from a Luongo deal relatively early in the season, I don't see them in the mix for a third.