I got to make a big, fat check mark on the ol' bucket list last weekend. No, not the one involving four bronzed goddesses wielding skewers of barbequed Kobe beef, bottles of fine Belgian porter, dewy eyes and pouty lips; I'll have to save that particular event for another life. Rather, I completed the Vancouver Half-Marathon on Saturday. Considering my downright anti-running attitude as little as a year ago — there may have been comments to the effect of, "unlike those gaunt, neon gear-laden freaks over there, I have absolutely no desire to voluntarily subject myself to jogging distances that have been known to kill people" — this is a major  personal accomplishment of both mind and body.
So far I've racked up just over 400km in 2014, well ahead of schedule for my goal of one thousand klicks, despite having several training setbacks for minor injuries (a mild ankle sprain) and illness (two bouts of the flu).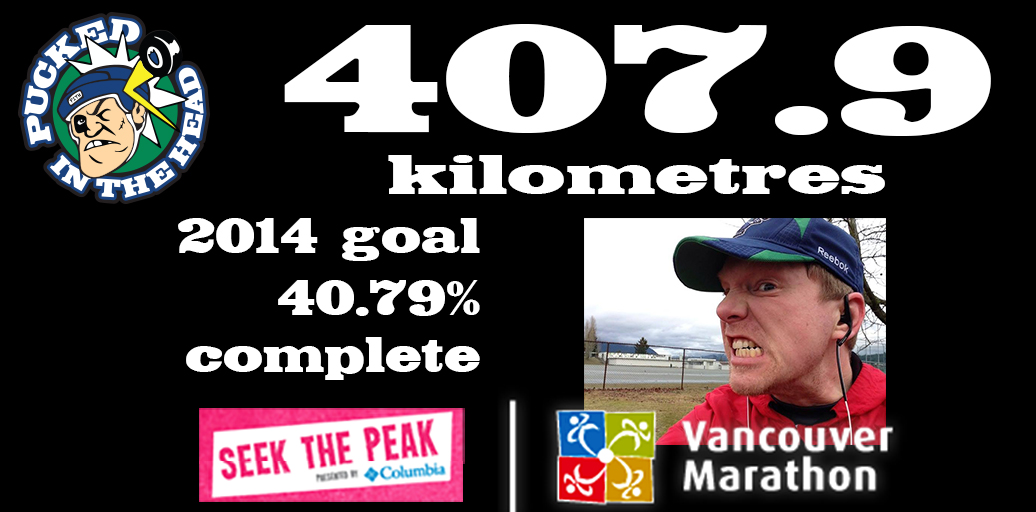 So what was the BMO event like?
Start Line
Queen Elizabeth Park is always a lovely place to stand in a rainstorm; why should 6am on a Sunday be any different? Thankfully, organizers had numerous UPS trucks stationed at the park entrance to facilitate gear check. No one wants to muddle through a complex or mind-numbing procedure just to drop off a backpack. The only drag afterward? Looking at your watch to see you've got 45 minutes before start time, and the only tent onsite is already half-full of shivering runners. The other half, naturally, is taken up by a puddle nearly four metres in diameter.
Through all of my training, whether in the snow, rain, wind or sun, I've just left my house and just run. Such is the nature of events like the Sun Run and Vancouver Marathon, however, that they — ahem —  precipitate long stationary waits before the starting gun goes off. Rain or shine, the delay means an adjustment to pre-run nutrition and hydration. In both events I found myself glued to a single spot for nearly an hour before needing a trip to the port-o-potty just as my group moved to the start line. This will take some adjustment moving forward.
Organization
Volunteers and staff were awesome. Despite the rain, they were to a person helpful, supportive and cheery. Refreshment stations were adequately manned (not unimpressive, considering they were serving nearly 13,000 half-marathon participants this day) and appropriately boisterous — their encouragement was just as energizing as the liquids in those little paper cups.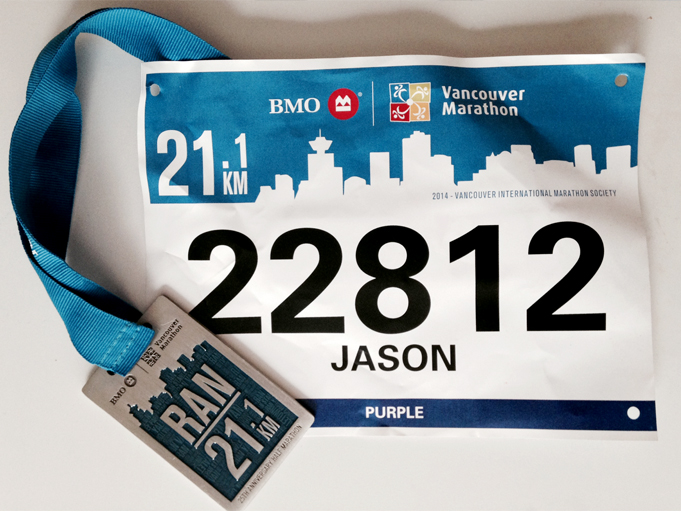 Swag
The medal is nice enough, I guess, if not particularly fancy, and for an extra ten bucks they'll mail me a personalized, engraved race tab with the chip time of 2:13:31. The tech shirt is of decent quality, and branded nicely with the race name and RAN | 21.1. I'm not a fan of the bright banana yellow colour, though. Too much reveal on the ol' curves, if you know what I mean. Unless I develop a Brad Pitt-esque six pack sometime soon, this'll be an undershirt only. To be honest I was utterly underwhelmed with the post-race food. UBC's Fall Classic last year had hot chilli for all runners — both meatatarian and all-veg options. BMO's finish line featured mushy bananas and Fitful Boxes comprising packaged dried goods. Sure, those wee packages included decent quality crackers, hummus and a tiny square of dark chocolate, but please. I just ran 21 km. In the rain. I want hot fricking protein, and I want it now.

Whatever, I booked it over to Yaletown and scarfed down a lovely breakfast at the Homer Street Cafe & Bar. Sweet, sweet Sunday morning benny, how I've missed thee. Damn, I wish the place had been this nice back when Nadia & I lived in the area — but I digress, twice!
Route
The first four kilometres went down well. Literally. From QE Park to BC Place is pretty much all downhill, a straight shot that provided no grumbles or surprises. Well, except for the naked ladies cavorting in the window of an apartment beside the Cambie Bridge, waving at runners as if to say, "You could have been in bed right now."
Even on a day of mist and clouds, False Creek is awfully pretty — for out-of-town participants, especially, the next few Ks provided some of the money shots that validated their trip. We ran under BC Place and Rogers Arena, then did a brief switchback on Quebec Street before passing through the gates of Chinatown. Quite a few runners had chalked up a dozen or so blurry touristy photos on their phones by the time we trotted into Yaletown.
A friend of mine had stationed herself route-side at the 9-km mark, and I was shocked at how much this boosted my spirits. I was already enjoying the energy of the crowd, but seeing that familiar face really had me feeling rejuvenated. Surprising, because I've never been much for running groups or pre-determined exercise partners. Anyway, as the run looped along Pacific Boulevard into Stanley Park, that jolt of emotional support kept me in early kms comfort.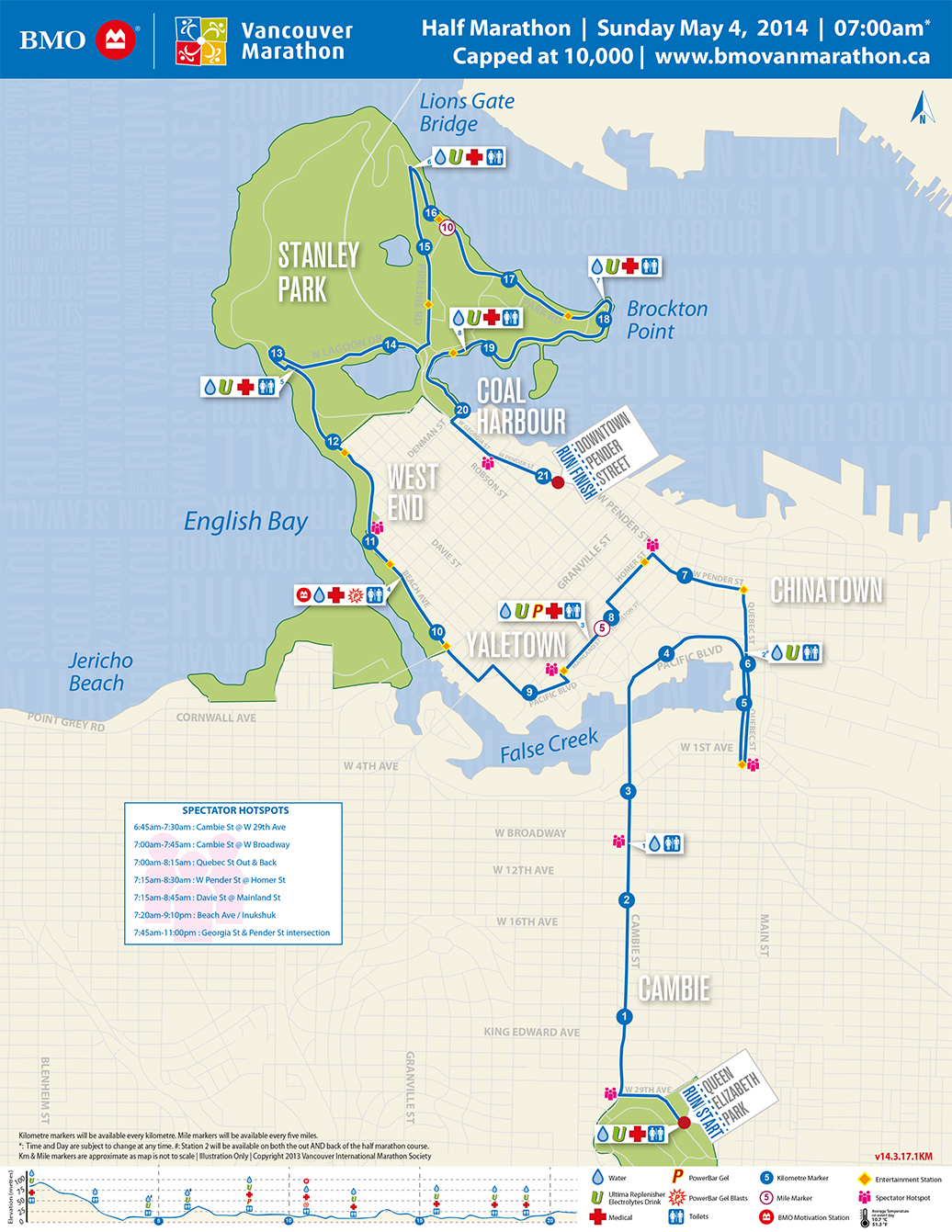 Sadly, the number of participants in the half precludes usage of the best parts of the Seawall. (This is true as well for the inaugural Rock n Roll Half in October.) So as soon as we got passed Davie Street, it was a hard right through the rolling paths that cut through the park. While it's a bummer not to get those dramatic views that go along with passing under the Lions Gate Bridge, there's something to be said for running under the greenery of Stanley Park's rainforest. Kilometres 14 and 15 included several very modest hills, which gave a lot of runners an excuse a place to sneak in a mid-race walk. I'll be honest: on my longer runs, I usually take short walk breaks every 1.5km or so (roughly every mile). That said, I powered through these tiny hills as a bit of a personal challenge, and took my walk break after the Seawall water station at kilometre 16.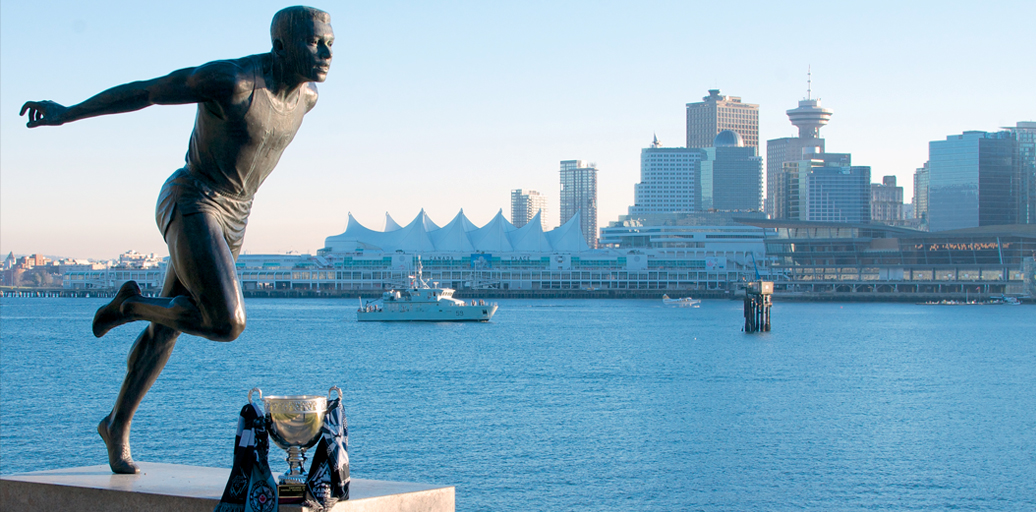 The final stretch used the road beside the Seawall rather than the Seawall itself, but it still offered peeks at the Vancouver skyline, albeit less postcard-worthy than we see on a sunnier day. I quite enjoyed this bit of the race, despite feeling my first true fatigue of the morning. I even threw my arms back as I went past past Harry Jerome near the 19km mark, pretending to stretch my upper back in case any of my fellow runners still had enough wits about them to judge me.My second big surprise came as the route turned out of Coal Harbour onto Georgia Street for the final thousand metres. When I first saw the finish line, I found myself getting a little emotional. Sure, I was finishing my first-ever half-marathon event, but I'd run the distance several times in training before. I'm not a stranger to delivering snot rockets when I run — ew, by the way — but developing the sniffles ought to be for physiological reasons, not psychological ones.  Weird.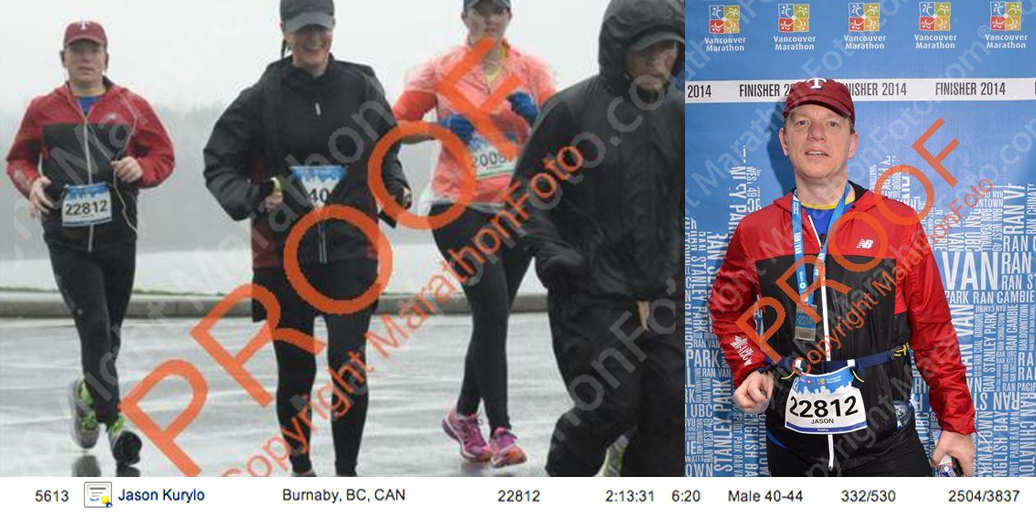 Shortfalls notwithstanding, this is the premier distance event in Vancouver every year, and I am proud of the training I did in preparation and the time I managed to squeak out on this drizzliest of May mornings. Such was my experience that I've already signed up to do the full next year.
Does anyone have a line on industrial-sized tubs of Advil?