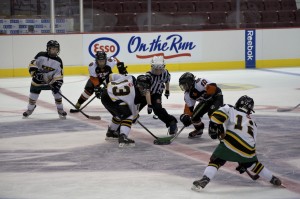 With the lockout inexplicably extending into the Christmas season, it's hard to for even the most ardent hockey fan to support their local NHL club. The fact is, however, that ownership represents a very, very small fraction of the personnel behind the logo — there are hundreds of incredibly decent human beings who work for each club, and they're faced with the daunting task of trying to keep good will alive within the communities they serve.
Enter the Vancouver Canucks Minor Hockey Weekend, where 24 teams were invited to skate on Rogers Arena ice. Teams were randomly selected from over 1200 entries from across the province of British Columbia. (Loads of pictures after the jump.)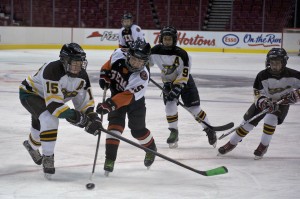 Kids on the ice this weekend were treated to the full meal deal: lineup and goal scoring announcing by in-house voice of the Canucks John Ashbridge, high definition video on the stadium jumbotron, still photography by a professionally trained photographer, and visits to the Canucks dressing room for photos with Ryan Kesler's equipment stall. The last four of these teams to play on Sunday were also treated to yours truly hopping around the rink attempting not to trip on anything.
The score? Okay, Semiahmoo waltzed away with a 10-0 win, and it wasn't the most lopsided game of the event. But really it's not the scoreline that was the focus. That mattered was the excitement in every one of these kids' eyes – and let's face it, in those of most of the coaches, parents and even staff members as well.
More pictures, you say? Check out the gallery below. Parents: for larger files suitable for printing, please contact Jason directly: jason (AT) puckedinthehead.com. If you like the pics, please consider donating to my Ride to Conquer Cancer campaign.