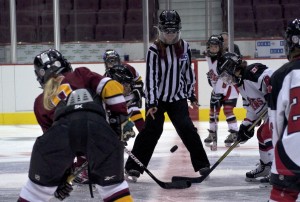 The Vancouver Canucks Minor Hockey Weekend, which featured 24 minor hockey teams from across BC skating on Rogers Arena ice, concluded with a resounding call of "LET THE GIRLS PLAY!" Okay, it wasn't the first female hockey game of the event, but with the leaps forward the women's game has made over the past few years, it seemed fitting that the Vancouver Angels and Richmond Ravens Atom teams would face off to the final puck drop on Sunday afternoon.
These 9- and 10-year-old ladies played to a 1-1 draw, even tying the shootout before shaking hands and heading off the ice for tours of the Canucks dressing room and the chance to grill their own coaches in the media room. (Loads of pictures after the jump.)

Looking for more pictures, you say? Check out the gallery below. Parents: for larger files suitable for printing, please contact Jason directly: jason (AT) puckedinthehead.com. If you like the pics, please consider donating to my Ride to Conquer Cancer campaign.