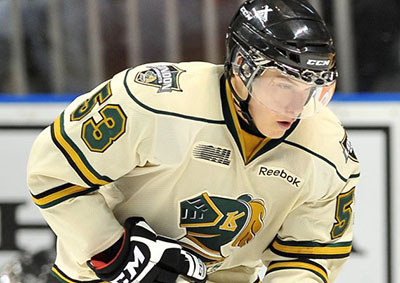 Twitter servers took a severe beating Sunday afternoon, as Mike Gillis moved fan favourite goaltender Cory Schneider to the New Jersey Devils for the ninth overall pick in the 2013 NHL Entry Draft.
As a bazillion people who have never watched a single junior game vented their anger in 140 characters or less, the Canucks marched onstage to selected Bo Horvat. The London Knights forward inevitably known as BoHo by Vancouver fans is probably best known as the guy who tapped home an outlandish between-the-legs pass from Max Domi at this year's Memorial Cup. If you haven't seen it yet, shame on you. Watch it below.
If these casual fans had ever cared to watch some CHL puck, they'd find out that Horvat was chosen to captain Team Ontario in the World U-17 tournament. They'd discover that this guy scored three game winning goals in this year's OHL final series, and as a result won the Wayne Gretzky Trophy as the Ontario Hockey League playoff MVP. They'd learn that Horvat's a versatile two-way forward able to play up the middle or on the wing.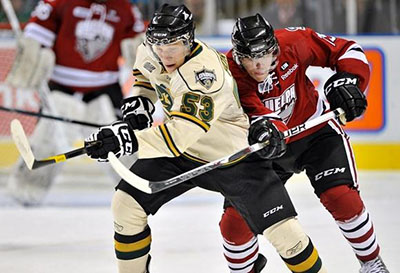 Remind you of anyone? Like Ryan Kesler, perhaps? Maybe some attntion to the game would help these people stop their whinging.
Oh, and Bo Horvat is Canadian, which is something a lot of people have wished for more of on the Canucks roster. Horvat hails from Rodney, Ontario,
Left to deal with is Roberto Luongo, who is back in his original uncontested #1 position in Vancouver. From a fan's perspective, the Canucks have a future Hall of Famer between the pipes who, despite widely held belief, has some of the most consistent NHL stats over the past decade. The only question is, can Luongo carry last year's professional attitude over into a surprise continuation in YVR? My guess is yes, but then again I've said long, far and wide that Luongo was, is and should be the Canucks #1 since this whole "goaltending controversy" started.
Onward and upward, Vancouver. Stay classy.
Horvat highlight reel: