Playlist Song #3
William Shatner — Common People
I admit it: I'm a Trekkie through and through. Back in the day, I saw Vancouver TheatreSports League's Star Trick musical no fewer than two dozen times, and wrote a front page story for the WestEnder about it, to boot. I ain't no fan of the Ferengi, but I've wasted more than my share of hours watching TV, movie and fan fiction productions of at least three different Star Trek shows. Hell, ask Chris: I've played William Shatner's Rocket Man over public address systems at college basketball games.
It's not the cheese factor, though, that brings me to pump William Shatner's 2004 cover of Pulp's Common People into my earbuds on the hoof.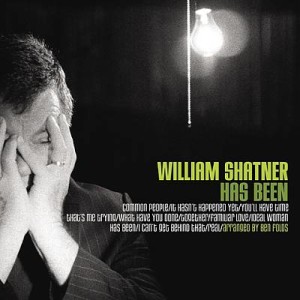 Produced by Ben Folds for Shatner's adventurous album Has Been, this track just plain kicks ass whether you're at the gym, at the track, or driving the highway. Musically, rhythmically, socially, you name it — Common People is anything but a common track. Shatner delivers an angry fuck-you spoken-word vocal, perfectly set to irritable guitar, simplistic keyboard and indie rock drums. Folds blends Joe Jackson's sublimely whiskeysour vocals into the chorus. Between the three of them, Folds, Jackson and Shatner make us believe they all have been trounced by some uppity rich chick who just wants to slum on the other side of the tracks.
I can't get into the original Pulp version, musically, but damnation the lyrics here are fantastic. I'm a sucker for writing that tells a complete story effectively; if someone can do that in the context of a pop song, count me in. Jarvis Cocker nails the phenomenon of class tourism so predominant in the 80s and early 90s — think Fight Club for a participatory exploration of hitting bottom. Later, reality shows like Honey Boo-Boo would allow "normal" viewers to point and laugh at those they perceive as less intelligent, less developed, less rich or just less.
"Everybody hates a tourist, especially one who thinks it's all such a laugh."
"Laugh along, even though they're laughing at you and the stupid things that you do because you think that poor is cool."
Album: Has Been
Release date: 2004
Beats per minute: 178
Subject: Class / Money / Sex /
Content warning: None
Video (Shatner cover):


Video (Pulp original):


Previous songs on the playlist:
Lady Gaga – Poker Face
Gioachino Antonio Rossini – William Tell Overture Finale