Hockey fans are everywhere. One at a time, we'll bring them to you. Here is Pucked in the Head's first episode of… Interview with a Fangirl.

Introduction to a Fangirl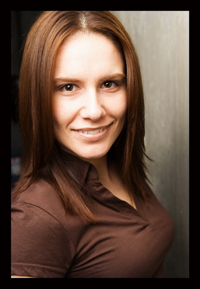 Cathy Chuchro
Defense
Shoots right
Famous for a spinorama and a mean left hook
Since the age of 11, Cathy Chuchro (a.k.a. @keslergirl) knew that acting was her passion. After High School drama and a few nudges from her teacher, she enrolled in the Theatre Studies program at Red Deer College and continued on with the Motion Picture Arts program. Appearing in numerous plays and films that went onto various festivals around the world, Cathy is also co-founder of Ignition Theatre, a company that helps emerging artists gain professional experience. Cathy has always been a hockey fan, but attending her first Canucks game solidified it. The moment Ryan Kesler stepped onto the ice Cathy became intrigued. His passion, determination, and drive for the game – as well as media attention being in the spotlight – is something she can relate to. She continues to audition and perform for productions in Vancouver, and Ryan still inspires her to dream big. Case in point, Cathy looks forward to the day she's modeling for the RK17 line.
Podcast: Play in new window | Download