Mr Ferraro brought the Cup to Burnaby on Monday afternoon. No, not that Cup. And for that matter, not that Ferraro.
Chances are if you're from the Vancouver area, you know of Ray Ferraro. Born in Trail, Ray played 18 seasons in the NHL — to this day you'll see Hartford Whalers jerseys bearing his name round these parts — and since hanging up the skates in 2002 he's built a tidy career as a broadcaster with Team 1040 and TSN. In 1,258 regular season games and 68 playoff contests, Ray never got close to winning it all in the NHL. But this story isn't about him. Or the Stanley Cup.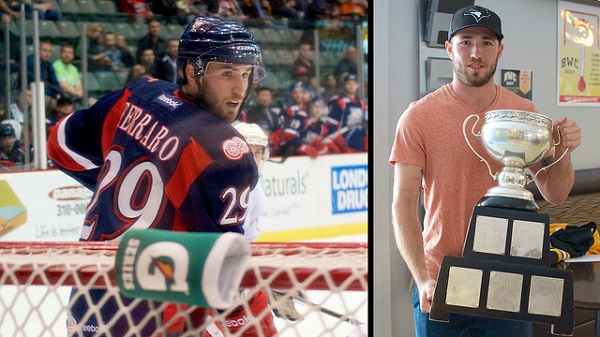 More after the jump.
Ray's son Landon just happens to be a solid player with the Detroit Red Wings organization, and also happens to have won the Calder Cup with their AHL affiliate the Grand Rapids Griffins earlier this summer. The Griffins beat the Syracuse Crunch in six games to claim the Cup, which has been awarded since 1937. Ferraro had his day with the Calder on Monday, and chose to bring it to the Burnaby Winter Club for a couple of hours in the afternoon. The BWC was his haunt growing up, so it's fitting that he would honour the place with the Calder for a couple of hours.
Despite being smack dab in the middle of an urban centre like Greater Vancouver, the BWC has the feel of a small town rink. It's a simple place, but even this has changed significantly in the 10 years it's taken Ferraro to go from teen minor hockey player to professional champ. Was there a coffee bar here a decade ago?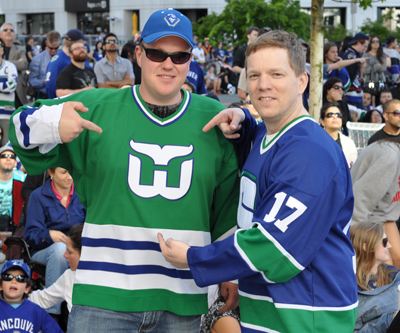 "Definitely not," laughs Ferraro, "all of this, the offices, the cappuccino bar, it's all new since I played here. There was just a tiny little kitchen in the back, with a couple of simple tables out here."
It's humble stories like this that make hockey players different from athletes in other sports, methinks. (Yes, I just typed 'methinks'.)
"Every Tuesday and Thursday, I'd practise first, and [older brother/goaltender] Matt would go on the ice after," said Ferraro, pointing at the BWC foyer.  "I'd bring my homework and sit here with a couple of grilled cheese sandwiches while he skated. They didn't have wraps and espresso back then — but Tony, the cook in those days, he'd always have the grilled cheese ready for me when I came off the ice."
And now, all these years later, he gets to bring a storied trophy like the Calder Cup in here. "It's a treat, for sure," said Ferraro. "It was last minute, and it's low-key, but it's great to come back like this with family and a few people from the community."
Ferraro's grandmother introduced herself while I was there, and she was a delight. At one point, while Landon was out of the room, she challenged me to lift the trophy. She had been asked to lift it up earlier, so she thought I should do it, too. She admitted needing some help to hoist it up "It's heavier than it looks, but no really, go ahead. Landon won't mind," she said. "Lift it over your head!"
Just for a moment I felt a tiny little bit like Jerry Seinfeld being goaded into lifting a television. I desperately wanted to shout, "It's go time!" Only she was much, much sweeter than Lloyd Bridges as Izzy Mandelbaum, so I thought it'd be best if I left that to my inside voice. Not everything needs to be reduced to a base pop culture reference. Right?
These are the thoughts that kept me out of the good schools.
I did wind up lifting the Calder Cup, and what can I say? Grandma was right. It is heavier than it looks. Landon concurred. "That base is solid wood, my friend," he said. "We were taking pictures with it all morning, and carrying that around in the sun, boy, it was a workout."
Tomorrow the trophy is off to California for one of Ferraro's teammates to have his day. Something tells me lifting a championship trophy for 24 hours won't leave him nearly as sore and drained as 24 playoff games in six weeks.
As for Ferraro himself, just four weeks after winning it all in the AHL, he's already looking forward to training camp. "I won't do the [Red Wings] prospects camp this year," he said. "I'll go to the main camp and try to get into a few pre-season games, then see where it goes from there."
Here's hoping I won't have the chance to chat with him after a Griffins-Heat tilt this season.
"Sure, it'd be great to stick with the Wings, but if not, playing for Grand Rapids has been great," he said. "There are worse things. If I'm with the Griffins, I'll see you in Abbotsford."
Thanks, yes you will. And once again, kudos for bringing the Calder out for all and sundry to see.
We covered the Grand Rapids Griffins visit to Abbotsford way back in April, when the Heat earned a split against the eventual Calder Cup champs. Revisit those games and the photos I posted:
Abbotsford Heat 3, Grand Rapids Griffins 2 (SO)
Grand Rapids Griffins 4, Abbotsford Heat 1