The Abbotsford Heat beat the Hamilton Bulldogs by a couple of field goals on Friday night, taking the first of back-to-back weekend games 6–0 in front of an appreciative crowd at the AESC. Blair Jones scored twice in his first game back from injury, while Corban Knight got off the schneid with a two-goal, three-point performance of his own after collecting just two assists in his previous nine games. The Heat went 2-for-5 with the man advantage, and obviously had a perfect night on the penalty kill.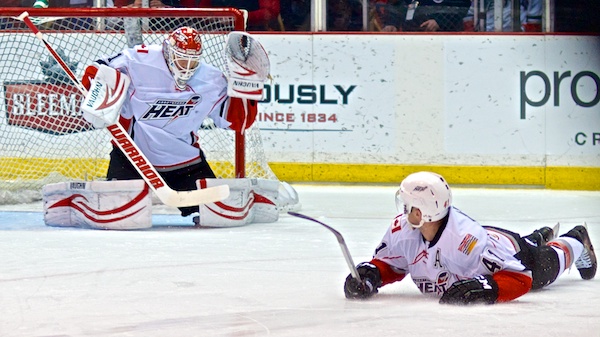 More, including highlights, after the jump.
The score may indicate a one-sided game, but the Bulldogs actually outshot the home team 34–28, and had numerous chances to get on the scoreboard in the first half of the game. Heat goaltender Joni Ortio stopped all 34 shots thrown his way, including several of the highlight variety in the second period. "Joni was definitely an unsung hero tonight," said Heat coach Troy G Ward after the game. "He made some big stops for us at crucial moments in the game, and when you score six goals sometimes the goalie doesn't get recognized the way he should."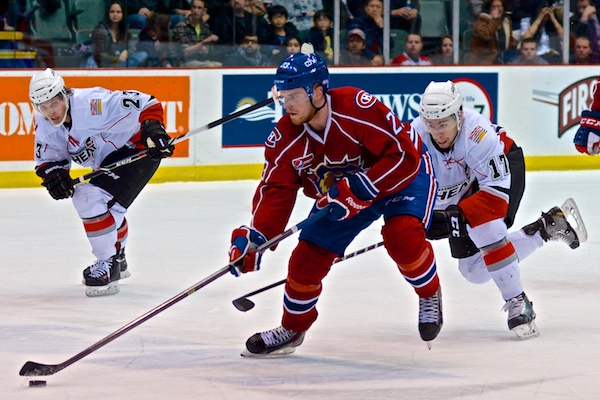 The offensive outburst came with a few notable hockey heroes in the building — Hall of Famer Frank Mahovlich dropped the ceremonial puck before the game, and former Vancouver Canuck Geoff Courtnall attended the game to watch his son Justin Courtnall play for the Bulldogs.
The Bulldogs and Heat play again Saturday night, and Abbotsford hosts two midweek puck drops with the Charlotte Checkers on Tuesday (Feb 4) and Wednesday (Feb 5).
Photo gallery! Give it up for homegrown photogs grabbing original images:
This slideshow requires JavaScript.
Highlights! Yeah, we got those too: