You're just a few shopping days away from the big Noël, and you've still got a few unchecked boxes on the naughty and nice list. Maybe one or two of those stockings belong to sports fans. Here's just one idea for how to fill that bit of footwear that hangs on the mantle.
The Lonely End of the Rink: Confessions of a Reluctant Goalie
by Grant Lawrence
$26.96 list price
$16.89 on Amazon.ca
Lonely End of the Rink is an autobiographical tale of how Grant Lawrence went from being a pre-teen King of the Nerds to a forty-something Kingpin of Beer League Rock 'n' Rollers.
Lawrence, ex-lead singer of The Smugglers and current King of the CBC 3, sketches out his childhood in terms of horrific geekdom, replete with knee braces, massive glasses, teeny tiny limbs and bad hair. There are Simpsons-esque episodes with fellow dweebs, beatings from bullies that would make Saruman the White proud, and verbal abuse from Seinfeldian gym teachers, who give him a lifelong hatred of being called by just his family name.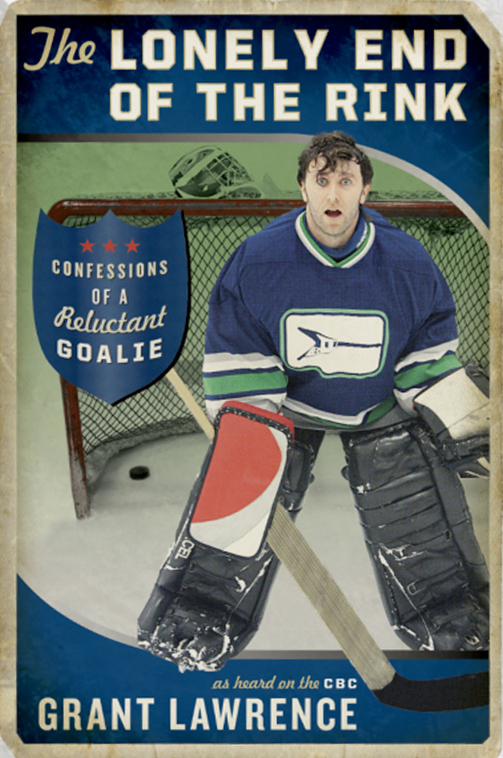 That reminds me: in this here tome, thar be pop culture references out the wazoo. Lawrence Grant writes the way hipster radio presenters talk — not that there's anything wrong with that. He sprinkles metaphors and similes on the page like Emeril hopped up on too much essence. On a single two-age spread (pp 76–77 if you're interested), he references Harry Hamlin (BAM!), Clash of the Titans (BAM!), the Spartans laying waste to Arcadia (BAM!), Richard Brodeur, the Scream Machine roller coaster, Gollum, zombies, Popeye, and a gym teacher named only The Fire Hydrant (BAM! BAM! BAM!). Chapter headings — and the book's title, for that matter — are all nods to hockey rock influences, from Alan Thicke to the Tragically Hip, from Dave Bidini & the Rheostatics to the aforementioned Jill Barber & her equally talented brother Matthew.
We get a few anecdotes from Grant's time as the lead singer of the Vancouver-based Smugglers, but large doses of talk about the Flying Vees, a collection of musicians, artists and other creative types who dabble in rec league hockey wearing — you guessed it — Gibson Flying V guitars on their blue, green and white jerseys.
Grant Lawrence won't win the Giller Prize anytime soon, but his conversational tone makes The Lonely End of the Rink a fast, entertaining read. Hockey plays the on-again, off-again romantic lead in the piece, even though we know our hero eventually settles down with sublime songstress Jill Barber. If you've even once heard a Top 10 list on CBC 3, you can't help but hear the author's voice in your head as you read his recollections of unsuccessful Vancouver Canucks runs to the Stanley Cup final. Thankfully, you can hear it & cheer as he recounts his own (admittedly unlikely) tournament wins, battling as an adult those childhood demons that still hang about the rink.
Grant may be small in stature, but he stands tall when he calls himself "still a gimpy, small, lopsided goaltender who always made the first move, who flopped like a wounded moth and let in way too many goals." He may be called 'The Guesser' by bearded Ontarian rockers, but for starting up the Flying Vees, he's forever 'The Kingpin' to his teammates. That's probably why, at 41 years of age & drinking Black Label from the Duffers League championship trophy — seriously, man, ain't there any craft beer in North Vancouver? — Grant was already thinking about the end of the off-season: "I couldn't wait for the next hockey season to begin."
Check out Grant's website here.
And follow him on the Twitter here.
But first, check out his face save here!