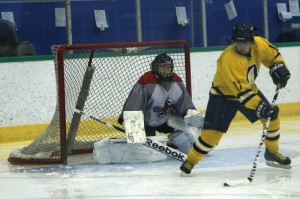 Those of you who follow Pucked in the Head know that we believe hockey is beautiful, and that the beauty is not limited to the NHL level. We love AHL, CHL, BCIHL, CIS, NAIA, NCAA, pee wee, midget, bantam, atom, and every other level you can think of.
Yes, we even love rec league! So in a blatant attempt to out-Hog Shack the Canucks Hockey Blog, we didn't just go to the Hog Shack Restaurant, invite the owner to appear on the podcast and shove our BBQ-holes full of pulled pork and delicious burnt ends. No, no, that would be easy. WE WENT TO A HOG SHACK HOCKEY GAME.
And we're going to give away a Hog Shack t-shirt to the first person to tweet me with the answer to the following question:
In one picture of the slideshow, the Hog Shack goalie is seen underneath the Richmond Olympic Oval scoreboard. The team is down 6-5 late in the game. How much time is left on the clock?
Check out the slideshow after the jump, and while you're at it, think about supporting our Ride to Conquer Cancer campaign – if you donate before noon on January 29, you could win tickets to see the Canucks at Rogers Arena!

Quicktime file: Hog Shack Jan 23 2013
Prefer something for your mobile? Hit this instead: Hog Shack Jan 23 2013-Mobile
All photos by Jason Kurylo.