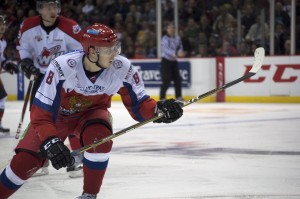 Russian superstar-in-waiting Nail Yakupov made waves when he announced that Canadians play dirty hockey, but it was his teammate who made headlines on the second day of the World Juniors in Ufa, Russia for all the wrong reasons.
Chicago Blackhawks prospect Maxim Shalunov delivered a wicked cross check to the face of Slovakian defenseman Tomas Nechala in Russia's opening game at the WJC, prompting a one-game suspension from the IIHF. On the ice, Shalunov was assessed a double minor penalty (four minutes) for the incident. Nechala received medical treatment for a facial laceration, but continued play in the game.
Russia ended up winning the game 3-2 in overtime after the Slovakians tied the game with less than a minute remaining in the third period. Surprisingly, the host Russians did not manage to sell out their team's opening matchup — some observers on Twitter suggested there were as many as 2,000 empty seats out of the 8,000+ available for the game.
Check out the video after the jump.