If MLS pundits are to be believed, the 2016 iteration of the Vancouver Whitecaps FC is destined for great things. Our very own Chris Withers, who is actually a betting man and thus should not use the phrase "if I were a betting man" to introduce his prognosticatory prognostications, prognosticated that Vancouver "will win all the things" this season.
This slideshow requires JavaScript.
Should they win many things? Probably. Manager Carl Robinson has done a masterful job of assembling a deep, talented roster. Will they? If they go on the attack as relentlessly as they did Sunday, quite possibly. This day, though, they died by the sword. The Caps, known for a deadly counterattack last year, carried much of the play on day one, but gave up multiple goals on the break to fall 3-2 to the dreaded Surrender Monkeys from Montreal.
As Carl Robinson said in the post-game presser, "We gifted Montreal these three points, if we're to give an honest assessment."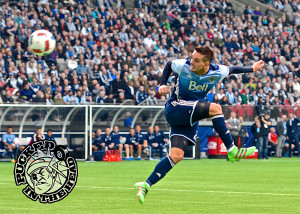 Vancouver showed promise early and often. Octavio Rivero had multiple chances in close, but was denied by keeper Evan Bush every time but one — a sweet, arcing volley from just outside the 18-yard box swerved achingly over Bush's outstretched fingertips and off the crossbar. In all, the home side had 22 shots at the goal, and put exactly half of them on target. Bush probably deserves a few cognacs on the plane ride home, because he took away three sure goals from Rivero alone.
Against the flow of play, Impact captain Ignacio Piatti cut through the entire Whitecaps back line to open the scoring midway through the first half. In particular, he eviscerated right back Fraser Aird — much as Mr Withers predicted — then avoided Kendall Waston, last year's MLS Defender of the Year (Deserved) and slotted the ball past David Ousted, last year's MLS Keeper of the Year (Deserved).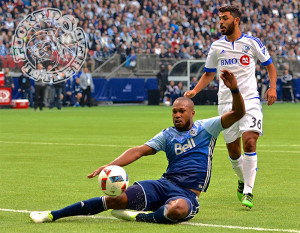 It was goal number two that saw even the vaunted Southside go quiet. As a ball dribbled into Vancouver territory in the 42nd minute, a retreating Waston and a charging Ousted fell victim to an uncharacteristic miscommunication. The ball slipped between them, gifting Dominic Oduro an easy 12-yard shot into an empty net. It was not the first half everyone had expected.
Just before halftime, Pedro Morales carved a perfect free kick onto the boot of Jordan Harvey, who was mysteriously unmarked just three yards off the goal line. He one-timed the ball past Bush to make it a one-goal game after 45 minutes.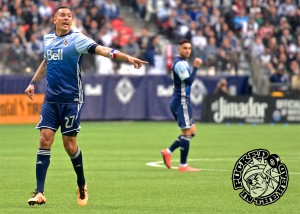 The second half was more of the same. The Caps manufactured a few chances, including a stretch of four successive corner kicks midway through the half. One of those resulted in a glorious ball to Rivero in the box; he headed it toward the corner of the net, and every Caps fan in the place held their breath, but Bush made a stunning dive to push the ball wide.
Piatti finished a counterstrike late in the half to salt things away, once again taking advantage of the coverage in the Vancouver right back position. He faked Ousted to go short side, then rolled his left-footed shot into the far corner to re-establish a deux-but lead.
Waston headed home his first of the season in injury time — once again on a set piece, this time a corner placed perfectly by new Whitecap Christian Bolaños — but it was too little, too late as referee Ismail Elfath blew the final whistle just seconds later.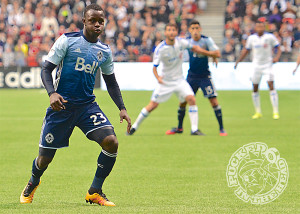 New signees Blas Pérez and Masato Kudo had their first touches for the home side in short substitute appearances, but neither provided much worth writing to their respective homes about. Bolaños showed a few flashes of offensive potential, but other than his assist on Waston's goal, displayed less quality on crosses than the man he replaced, Mauro Rosales. Again, remember: small sample size. If the club gets ten corners every game, we may see more set piece goals yet.
A disappointing first outing gets chalked up for defender Fraser Aird. He was Piatti's personal plaything most of the afternoon, but he can't be blamed entirely for the loss. No one scored from open play. Ousted and Waston can't — and won't — make errors like that on most game days. Rivero needs to fricking bury the ball when he has that many chances. No matter. You know Aird will be drowning in video assignments and social media ire for the next week anyway.