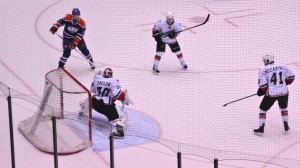 Coming into Saturday's game, the Oklahoma City Barons hadn't scored in nearly seven periods of hockey. The streak went back to a game last weekend against the Houston Aeros, and the Abbotsford Heat contributed another five and a half periods of frustration for the visitors from OC.
In between were a massive Aeros comeback to win that game, and consecutive shutout losses to the San Antonio Rampage and this very same Heat squad. As overheard in the media room before puck drop, "Will the young stars show up tonight? Probably, seeing as they're going to be on TV."
(Want more pictures, video highlights and warblings from yours truly? You got it. But first, buy this book. Or don't. Your call.)
It's hard to say if you can nail it down to some regional broadcast coverage, but it's true that players like Ryan Nugent-Hopkins, Jordan Eberle, Magnus Paajarvi and Taylor Hall aren't getting the same kind of attention in Oklahoma that they may be used to. "It's not a hockey market like it is in Canada," said Hall post-game, who tipped his hat to the Edmonton Oilers fans in the crowd in Abbotsford.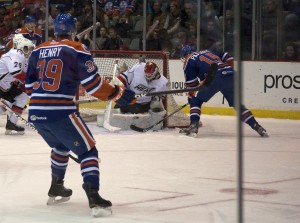 Average attendance in OKC is just over 3,000, so the large number of blue and orange shirts in the audience Saturday probably buoyed the visitors to play through any sores suffered during the long bus ride. "For the Oilers fans in Vancouver to come out here tonight, and be so loud and boisterous, it was great, for sure."
And hey, these guys are professionals. It probably sticks in their craw when they go nearly three games without seeing the red light go on even one time.
Whatever the reason, the Barons came out hitting hard and skating fast, jumping to a 15-5 advantage in the shots department after 20 minutes and 24-13 after 40. Despite spending most of the first two periods in the Heat end of the rink, Danny Taylor shut the door. It wasn't until the 7:26 mark of the third period that the Barons finally put puck to twine, as Hall scored a power play goal on a cross-ice pass from Nugent-Hopkins.
It marks just the second time the Heat have allowed a power play goal this season.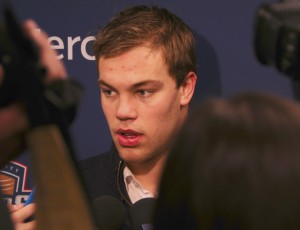 But Abbotsford hasn't leapt to the top of the AHL standings by rolling over. They turned up the desperation, outshooting OKC 19-9 in the third period and tying the game on a greasy, lunch-bucket goal by Dustin Sylvester with just 1:45 left in the third.
Overtime would solve nothing solved everything. Schultz blasted a shot from the top of the slot past Taylor at 1:36 of the extra frame to secure the win for Oklahoma.
This weekend saw something rare at the Abbotsford Sports and Entertainment Centre: sellout crowds for games that don't feature a Vancouver Canuck farm team. Locked out stars like Hall and Nugent-Hopkins are putting bums in seats in the Valley; so far this season, the Heat are up by around 2,000 in average attendance over last year. Considering the entertainment value of these games, it's a shame that midweek games don't draw nearly as well. "It was a fast, entertaining game," said Hall, who agrees that this league offers something for fans and players alike. "It was a fair game, too — not a lot of cheap shots — so I think I can speak for both teams when I say that it was fun to be a part of out there."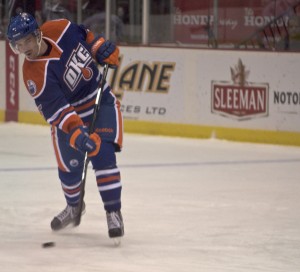 As for the Heat, well, you never want to lose, but Head Coach Troy Ward was generally happy with his team's performance over the weekend against the Barons. "That is a very talented team over there, and we held them off the scoresheet 5-on-5 this weekend," said Ward after Saturday's OT loss. "We shut them out yesterday Today they scored once 4-on-4, and once on a power play."
The single point brings Abbotsford within two points of the Western Conference leaders, the Charlotte Checkers. The Heat have 17 points to Charlottes 19, with two games in hand.
The Heat's next home games are November 13 and 14 versus the Lake Erie Monsters, the AHL affiliate of the Colorado Avalanche. Tickets start at just $12 — GO, for goodness sake.
One of our favourite parts of games like this is when the Timbits teams come out during intermission. These kids aren't looking for million-dollar contracts — not yet, anyway — they just want to play the game. Below is a picture of the Abbotsford Angry Birds in action during intermission at Saturday's game; the Heat and other teams struggling with attendance should come up with more active ways to integrate themselves into their local communities. One such program involves having child reporters with their mics and video cameras in the post-game scrum. They were literally beside themselves at the chance to throw questions at a guy like Taylor Hall, who by the way played ambassador to the game very well.
Q: "What would you say was the key play that gave your team the win tonight?"
A: "I'm going to go with the overtime winner, but we rolled four lines all night and played a pretty complete game overall."