Friday night saw perhaps the most impressive MLS win in Whitecaps history. Vancouver was riding a two-game win streak for the first time this season and sat two points out of the final playoff spot in the West. The Caps had not won three straight since June of last year (and had only done so twice since joining the MLS in 2011); the last away goal of  consequence for Vancouver came in mid-July in a 1-1 draw against Real Salt Lake. Since then, they'd been shut out in road games against Chivas USA, Chicago Fire, LA Galaxy and the dirty, rotten, stinkin' Portland Timbers. (They scored once in Frisco to spoil a clean sheet for FC Dallas, but lost 2-1 to those scurvy, diving dogs anyway.)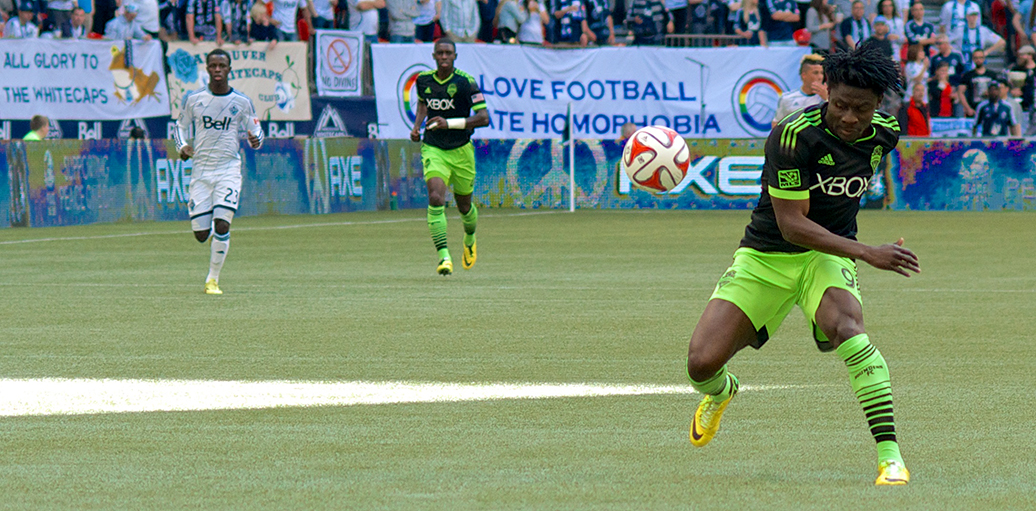 To win Friday would require something special. The Seattle Sounders are among the league's elite teams, and are currently battling the LA Galaxy for the Supporter's Shield as regular season champions. Clint Dempsey and Obafemi Martins have been on a tear; with 31 goals between them, they are just 10 shy of the entire Whitecaps roster combined. The Sounders had scored in 11 straight matches, a remarkable streak in any soccer league.
Even the staunchest of the Southsiders merely hoped for three points — not only would a win keep the Cascadia Cup in Vancouver for another year, but it would draw the Caps back into the fifth and final playoff spot with just two games to play and leave Toronto FC six points back late in the charge for the Canadian entry to 2014-15 CONCACAF Champions League play. Oh, and the gravy: Sounders FC had never lost a fixture when more than 50,000 fans packed Century Link Field.
Truly, most Vancouver fans would have been ecstatic with a single point for a draw. All this other stuff was but a pipe dream for idle jawing over yet another pitcher at Doolin's.
Until Friday, that is.