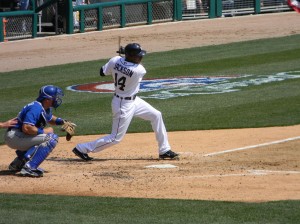 No, the Mariners did not get David Price from Tampa Bay. He went to the Tigers.
Instead, the Mariners got Austin Jackson, who is a legitimate center fielder, from the Tigers. And I am happy.
Does this move by itself mean the Mariners make the playoffs? Of course not. But if you had told me in April that we'd have Austin Jackson for the stretch run, I'd have been thrilled, and I'm (still?) thrilled today.
Jackson instantly gives the Mariners a competent outfielder – and while I was thrilled with James Jones at the beginning of his time with the team, the reality is his numbers have been going the wrong direction for a while now. And that's both offense and defense. And, the addition of Chris Denorfia in a separate deal gives another competent outfield piece to a team that, let's face it, really didn't have a Major League outfield when the season began.
Defensively, Jackson is an immediate win over our current outfield. I would expect to see Endy Chavez out of the mix quite quickly. Once Michael Saunders gets back, I would also expect to see a lot less of Stefen Romero as well. Don't be surprised to see a Dustin Ackley/Denorfia platoon.
Offensively, Jackson started the season slow but heated up in July. The hope is that reuniting him with Mariners Manager Lloyd McClendon, who was his hitting coach with the Tigers, will help. Even if Jackson is relatively neutral offensively, this is still a win for the team. McClendon has already said Jackson will be the new leadoff hitter.
I think the key takeaway from this trade is what did *not* happen – the Mariners did not give up any of their top talent. They didn't mortgage the farm, as has been done in years past, in a misguided effort to win it all now. I want to see the Mariners make the playoffs as much as anyone, but if there's one thing we learned in the Bavasi years, it's that you can't jump the queue in baseball. You have to take your time and work with what you have and fill the holes with trades – or you have to be the Yankees or Dodgers. This deal sends a player I personally like, Nick Franklin, whose best position (2nd base) is going to be filled by Robinson Cano for quite a few years to come. In return, it brings back an outfielder who we'll have this year and next. This means that in the offseason, Jack Zduriencik will not have to worry about center field. And this is a good thing. And the Denorfia trade gives you another outfield piece, albeit not as valuable a one as Jackson, for almost nothing of value.
I don't know what the next two months hold for the Mariners. But you gotta like their chances more with these two moves than you did this morning, and that's a good thing. Go Mariners.