By Jim Chliboyko, Pucked in the Head's official Winnipeg correspondent. Yes, he actually lives there. And yes, for our American readers, they have indoor plumbing and central heating. No, they don't live in igloos. Well, not all of them anyway. Consider this a companion piece to our first round picks, posted yesterday.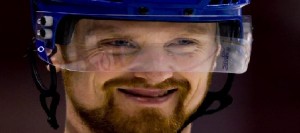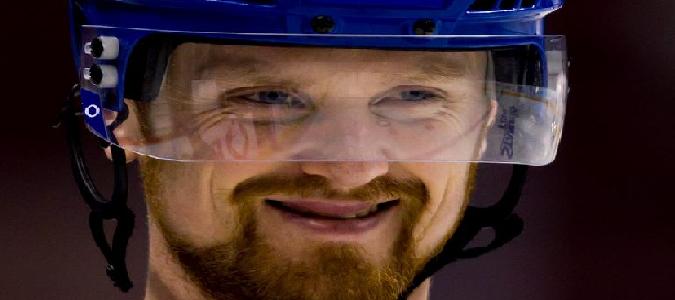 I'm especially well-positioned to pre-judge the 16 teams geared up for the 2011-12 Stanley Cup Playoffs. I only really paid attention to the Winnipeg Jets this year, and all the live games I managed to see this season were with teams that, consequently, missed the playoffs. Which is sort of like cheering for all the red-headed and albino kids in The Hunger Games.
The East
1 Rangers vs 8 Senators
Aragorn is a famous ranger; John McCain is a famous senator. So, using my which-literal-nickname-is-mightier method of playoff analysis, things aren't looking good for the Senators of Ottawa. But, then again, the Senators beat down the Rangers three games to one this year. Series are often determined not by the team on paper, but by how such radically different gangs of individuals stack up against each other. And Ottawa schooled Torts and the Gang the last two times they met, acting all speedy-like, and outscoring them 7-1. Logic suggests New York will win; Ottawa will take it, though (fingers crossed) because I want to see Tortorella's head explode like Louis Del Grande's in Scanners. Sens in 7.
2 Bruins vs 7 Capitals
Bears are unpredictable and scary; Capitals are administratively grey zones of bureaucratic indifference. The names match the teams! Sweeps these days are pretty rare, but the shiftless Capitals, despite their talent and occasional outbursts of competence (and the who-dat promise of third-string Braden Holtby in goal), don't hold a poorly lit and sputtering candle to Boston, Saint Nathan of Horton or no. (St. Horton was the martyr sacrificed by Rome last year [see what I did there?]). Washington has eaten its spinach lately, but Ovechkin hasn't won anything notable ever, really, and he ain't starting now. This is mainly out of intra-division subjective bias, but I'll take the Bruins in 4.
3 Panthers vs 6 Devils
Panthers are savage, but Devils have magic and pitchforks. And history. But, lo, the idea of a Devils team winning the Stanley Cup yet again bores me so thoroughly, it makes me want to go to bed until the new CFL season starts up. However, the Panthers are in the playoffs for the first time in a staggering 12 years, are almost randomly assembled and have proven themselves to be lacking a closing gene, losing a massive amount of games in overtime and shootouts. Not a good sign. Devils in 5.
4 Penguins vs 5 Flyers
A doozy. Penguins are flightless; Flyers can, um, fly. (Okay, the nickname method falls flat sometimes.) Like the Hunger Games (spoiler alert), isn't there any way both these teams can advance? Can't Caesar Flickerman and Seneca Crane change the rules in the middle of the series? The Pronger-less Flyers won the season series, but the Penguins can hit back, as well; witness last week's check on Briere. What the heck is a contusion, anyway? And, breaking news, Bryzgalov is starting to freak out on the press again. Katniss Everdeen in 7. (For all the Hunger Games references, I submit Jim Hughson opened the door on that baby.) Seriously, Penguins in 7.
The West
1 Canucks vs 8 Kings
Canucks are Canadians, and Canada remains a monarchy; Kings are, well, kings. Namewise, that's a stalemate. The season series was pretty even, too, with the Canucks scoring a Kings-like amount of goals; only seven versus Quick and Bernier in four games. I used to cheer for Vancouver before Winnipeg returned, and their playoff game always gave me the vapours. They made every goalie seem like Tretiak, until they made them not look like Tretiak (except for Tim Tea Party Thomas). It'll be a tight one, and I'll personally go through a lot of Immodium this April, but unless Chris Kontos invents a time machine, Vancouver should win. Canucks in 6.
2 Blues vs 7 Sharks
To misquote Amity Police Chief Brody: You're going to need a smaller boat. How do the Sharks not do better? They're like the flirty girl who always disappears on the night of the big dance. They shrugged into the playoffs, while the Blues kept winning with Montreal castoff Halak, Ottawa-and-Colorado castoff Elliott and hired Ken Hitchcock. The Blues' leading scorer has, like, 11 points. As for the team names, Great White Sharks are mighty, but there are seriously 400 species of sharks; these guys are more like Centroselachus crepidater (the longnose velvet dogfish). Not so scary. And, like their logo, anyone can bite through these crappy composite sticks these days. Blues in 5.
3 Coyotes vs 6 Blackhawks
Like with the 'yotes, why hasn't anyone abbreviated the Chicago team's name to 'ckhawks? Because it sounds naughty, that's why. The Coyotes are like Toshiro Mifune; they're like a grungy but deadly outsider samurai on the lookout for a home. But the Coyotes had Chicago's number all year, and Mike Smith is playing like a maniac. Namewise, the edge goes to Chicago: "Blackhawk" refers not to a tribe of Native Americans, but to an individual chief of the Sauk tribe whose Wikipedia entry was too long for me to read. Coyotes, meanwhile, remain grungy. But they'll get the job done, even whilst scratching behind their ears with their skated feet. Coyotes in 6.
4 Predators vs 5 Red Wings
Predators denote survival while a Red Wing just seems inert. Perhaps it's a reference to tandoori? Delicious! No matter, I have no idea what is going to happen here. Personally, I'd like to see Nashville go far; Barry Trotz and Jordin Tootoo (my favourite half-Inuit, half-Ukrainian player) are both Manitobans, and Pekka Rinne was my hockey pool goalie this year. Everything's subjective. The Red Wings' Darren Helm (St. Andrews, Manitoba), meanwhile, is injured, to boot. In fact, Detroit is pretty beat up, while Nashville was busy at the trade deadline. Detroit should win, but I'll go with Music City. Preds in 7.
Jim previously contributed to Pucked in the Head here. He writes for too many publications to list here, and we consider ourselves lucky to have him here at PITH. When he's not pounding the keyboard with those meaty nubs he calls fingers, Jim can be heard quoting Simpsons episodes in new and exciting ways. He hasn't given us a picture yet, but suffice to say he looks an awful lot like that Jets fan in the Hockey Love Hurts commercial. Lots of wringing of hands, and crying in the shower, and stuff.