It seems both not that long and an eternity ago that the Whitecaps were contenders. As recently as the second half of 2015, Vancouver had a realistic shot at the Supporters Shield before faltering down the stretch. Think back to that time. Glorious, wasn't it? David Bowie and Carrie Fisher were still alive. The President of the United States had big boy-sized hands that weren't hovering over the nuclear launch button. None of our Cascadian rivals had stars on their kits. The Caps had qualified for their second straight Champions League by winning their first Voyageurs Cup. Then 2016 happened. And happened. And continued to happen. Jesus, it just kept happening. Then on Thursday evening, Vancouver returned to form, defeating the New York Red Bulls 2-0 to become only the seventh MLS team to advance to the CONCACAF Champions League semifinals.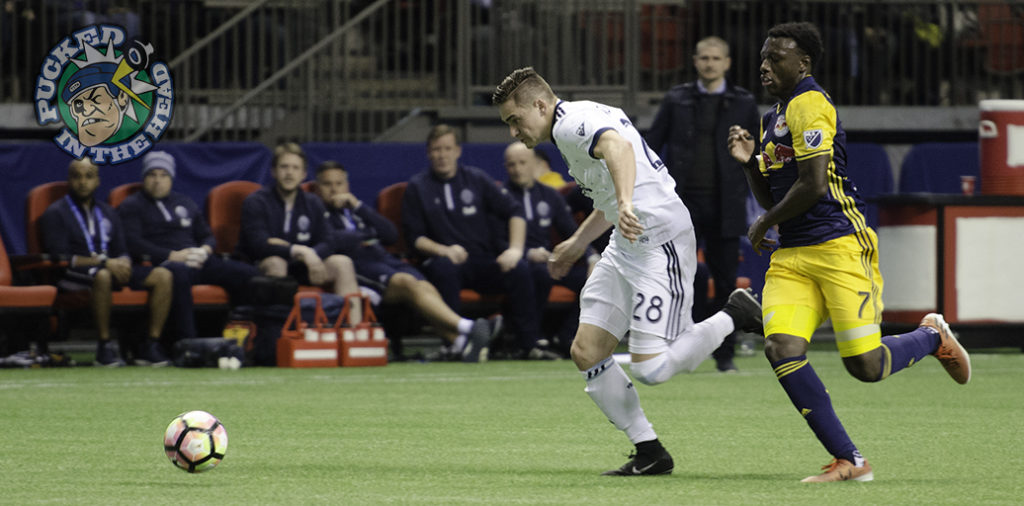 I say "returned to form," though that is of course still far from certain. It was only one game against an MLS team that has historically struggled against the Caps, but it looked like the old 2015 game plan executed beautifully. The Caps conceded an astounding 73% possession to New York, yet allowed them very few opportunities on goal, outshooting them 13-6 with only 2 allowed on target. It's ugly at times, and there is certainly room for improvement. Passing, for instance, could stand to improve from the dismal 49% the 'Caps managed, but the signs were there that Vancouver could well outperform their naysayers this season.
2016 was an experiment that failed in spectacular fashion. Carl Robinson, at the helm of the reigning stingiest defence in the league, tried to sacrifice a bit of defence to improve what was a woeful offence in 2015's stretch run. As it turns out, sacrificing your right back and a defensive midfielder was not the way to go about that. Neither Fraser Aird nor Jordan Smith was up to the challenge of starting full time on the back line, and Kendall Waston, playing as the right-side centre back, was frequently exposed by players running at him unobstructed. The defensive midfield suffered as well. Laba and Morales were never the Timbers' Chara and Valeri that some imagined them to be, and even when they effectively forced attacks to the outside, Aird's positioning made the tactic ineffective. In 2017, Robinson appears to be going back to that 2015 formula, but the significant improvements to the attack make its prospects for success much stronger.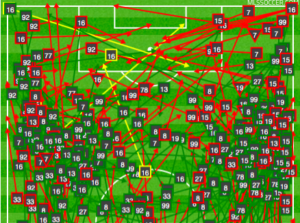 Last night, Matias Laba and Russell Teibert managed to funnel nearly all New York's attacks out to the wings, where Jordan Harvey and Jake Nerwinski forced the visitors into attempting 27 (!) crosses. The trio of David Ousted, Waston and Tim Parker caught or cleared most of them with aplomb. You can see in the graphic that the bulk of New York's attacking half passes originated out wide, and the green lines into the middle are few and far between. Waston in particular looked like his 2015 self, with several signature headed clearances contributing to the Caps' impressive total of 35, and a sliding goal-line clearance that deserves some recognition even if the play was called offside.
Up front, however, is where 'Caps fans have the most reason for optimism. With an attacking corps depleted by injury and suspension to the tune of five regulars, Robinson was still able to field a lineup more potent than anything seen in the 2015 squad. Brek Shea was winning aerial battles in a way Octavio Rivero didn't. Alphonso Davies was beating defenders like Darren Mattocks couldn't. Marcel de Jong was solid and defensively responsible, if unspectacular. Kekuta Manneh was stretching defences like he always has, and functioning adequately as a distributor with four key passes. Then Fredy Montero made his debut and turned an already potent counter-attack lethal, pouncing on a loose ball and hammering home his first touch as a Whitecap to put the tie out of reach.
It's early, but if you can't get excited by the prospect of 2015-level stinginess accompanied by an effective attack, I don't know how to help you. Perhaps we'll know more this Sunday as Vancouver opens its MLS season against Philadelphia.
Stand by for match photos courtesy of Jason Kurylo.