Seven Things – 19 May 2011
1. With a combined 2 goals and 5 points in game two, it's official. The twins have arrived in the Western Conference final.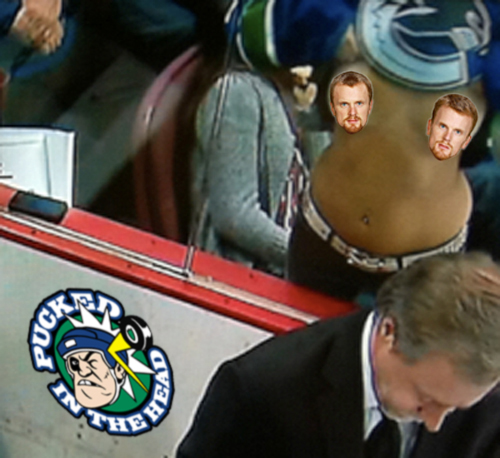 First of all, we now have a clearer idea what the hell Ben Eager was thinking as he took penalty after penalty after penalty in the third period as the Canucks lit the Sharks up for four power play goals. There are just two questions that come to mind:
Why the hell didn't he just save us the trouble and call the ref's mother a whore to get a 10-minute misconduct? He still gets the box time but doesn't leave his team shorthanded for pretty much the entire period.
Why do the jerks always get the girl? Showing the Sedins, or Kevin Bieksa, or Chris Higgins your nipply bits would have made sense, mystery girl. But Ben Eager? He's a drooling imbecile at the best of times – on Wednesday he was eye poppingly daft. Hardly deserving of the teat show.
(Article continued after the following sports-related ad content, which you really ought to read.)
---
Vancouver-based fanzoo offers signed memorabilia for reasonable prices. You know, if you're into that kind of thing. Howzabout a signed, framed Alex Burrows 8×10 for under two hundred bucks? Give 'em a looksee. And if you pull out the plastic, tell 'em Pucked in the Head sentcha.
(Okay, now back to your regularly scheduled chicanery.)
2. Kudos to Ian White for trying to stop the embarrassment that was the Ben Eager show in Wednesday's third period. As the lumbering oaf stood over Roberto Luongo, taunting him after scoring a mean-nothing goal to make it 7-3 Canucks instead of 7-2, White grabbed his teammate to pull him out of the crease. Of course, there was no stopping the train wreck at that point. Eager stood there in all of his Neanderthal glory, yammering on about whatever it is that single-celled organisms yammer on about. Of course, Canuck D-men swarmed him, a brouhaha ensued, and Eager got yet another trip to the box. The rest, as they say, is mammaries.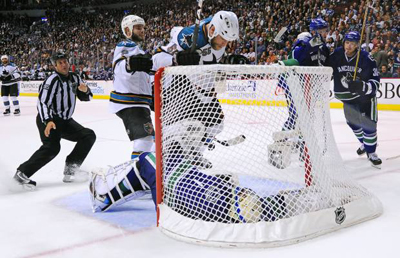 3. Tim Thomas (37) and Dwayne Roloson (41) are the oldest goaltenders to face each other in the playoffs since 1971, when Glenn Hall and Lorne Worsley backstopped the St Louis Blues and Minnesota North Stars respectively. Mr Goalie was 40, and Gump was 42. Youth won out in that series, with Hall helping the Blues to a six-game win. (He was beaten by a 24-year-old rookie in the second round. Some guy named Ken Dryden? I hear he was okay between the pipes.)
4. When Brian Burke performed draft magic to line up the second and third overall picks in 1999, Vancouver hockey fans had a lot of reasons to be skeptical. First, the Canucks' draft record had never been much more than a formality. Look at the first two decades of draft picks coming to Vancouver, and each listing is a tragic what-ifstatement. From Buffalo getting Hall of Famer Gilbert Perreault first overall in 1970 (to our Dale Tallon), to the 1990 selection of Petr Nedved over future Hall of Famer Jaromir Jagr, the Canucks had long deserved the crown as the worst-drafting team in hockey. Hell, even when we did pick well we traded him away before the guy blossomed. Hello, 9th overall pick in 1983 Cam Neely. So yeah, the Sedins were a freak show – look at these guys, for cryin' out loud, they were slow and weird-looking, squared. The Canucks missed the playoffs in 2000, so when the twins cracked the lineup, we were so, like, yawn. Henrik scored 20 points in his first year. Daniel, 20 goals and 34 points. "Hardly future Hart trophy winners," we'd lament. "It's not like they'll ever win a scoring title, or drink from Lord Stanley's mug. Hey, how many Cups do you think we would have won if Neely hadn't been traded, and Gretzky had come here instead of LA?"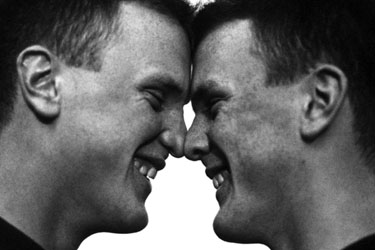 It's been a long, slow process, but a lot of those folks still call them sisters when they don't score for a few games. They can grow facial hair now. They can also shrug off Ben Eager slamming them from behind, score five points and bury your team in the conference final. Fans ought to stop complaining about the dips, and revel in the peaks. Twelve years in, Hank & Dank, you're six wins away from proving everyone as wrong as they could be. You've come a long way, baby.
5. Tyler Seguin didn't electrify the St Pete Times Forum in game three, so it was up to Milan Lucic and Tim Thomas to do the trick. Watching them methodically wear down the Bolts, I realized: holy cats, the Bruins are the only team in this playoff without a traditional superstar. Lucic is a hard-nosed power forward, sure, and just about any team would want him. But he and David Krejci tied for the team scoring lead this year – with 62 points, good for just 39th in the NHL. The San Jose Sharks alone had five players with that many or more this season. Compare that with the Cup winners since the lockout:
2010 Chicago Blackhawks – Patrick Kane: 73 points, 15th overall
2009 Pittsburgh Penguins – Evgeni Malkin: 113 points, 1st overall
2008 Detroit Red Wings – Pavel Datsyuk: 97 points, 4th overall
2007 Anaheim Ducks – Teemu Selanne: 94 points, 11th overall
2006 Carolina Hurricanes – Eric Staal: 100 points, 7th overall
Not since Patrick Elias scoring only 57 points for the 2003 New Jersey Devils did a Cup winner feature such a low-scoring team (he was 67th overall), and we all remember what a snooze the trap era was for playoff hockey. Lucky for us, the Bruins don't play that kind of insomnia cure-all hockey – even when they shut out three of the most dynamic players alive in two of three games.
Of course, this year's Canucks have the scoring champ Daniel Sedin, first with 41 goals and 63 assists for 104 points. The Lightning offer the runner-up, Marty St Louis, who wound up one shy of the century mark. The Sharks' Patrick Marleau is a chump by comparison. He was tied for 15th with 73.
6. As much as I liked the guy when he played in Vancouver, Kyle Wellwood has been absolutely invisible against the Canucks. The past two years, he was the best Canuck in second-round exits against the Chicago Blackhawks. This year he was excellent in San Jose wins over Los Angeles and Detroit. Two games into the third round, however, and he has yet to dipsy. He has not once doodled. There has been no dangle, no wrangle, and precisely none of the greasy puckhandling he is known for at this time of year. Either he's out of gas – a scenario that will please those lesser jokesters who are still making "Wellwood is fat" jokes online – or the Canucks got too good a glimpse of his playoff tricks the past two years, and have figured out how to diffuse the crafty winger.
The following picture is not Kyle Wellwood, and this type of humour will not be tolerated.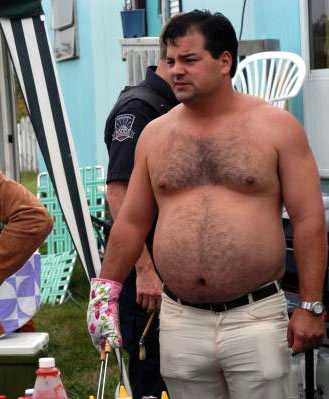 7. This evening saw clashing stories emerge on the fate of the Atlanta Thrashers. The normally rock solid Stephen Brunt of the Globe and Mail reported that the deal between the Atlanta Spirit Group and True North Sports and Entertainment had been finalized, and would be announced in a Tuesday press conference. The news naturally spread like wildfire over various social networks.
In a related story, Manitoba jizzed all over Saskatchewan's dress.
Every other media outlet that cares a lick about hockey was vehemently denying that any such deal had been completed.
Look, the move of the Thrashers to Winnipeg is a near inevitability. Current ownership wants out, there's no 11th hour saviour about to swoop in – despite the best efforts of Tom Glavine – and the local government wants no part of bailing out a sport that the Georgia populace generally doesn't care about. This is not a story that a single journalist is going to "break"; they're simply going to confirm what people have been expecting for a long time now. It would behoove the media to remember that the relocation of a professional sports franchise is a nasty piece of business. Even a franchise as poorly supported as the Atlanta Thrashers has fans, and some of them are die-hards. (This in contrast to the Toronto Maple Leafs, who almost exclusively attracts blowhards.) Out of respect for the people who showed up to support this game in the hockey hinterland of which Ray Charles sang so soulfully, the media can afford to wait for a formal announcement before sticking a fork in the Thrashers.
This fellow – who is also not Kyle Wellwood, by the way – may soon be sitting alone in a Starbucks, lamenting the fact that he can no longer sit alone in the stands of Philips Arena.