Seven Things – 25 May 2011
1. Before these playoffs began, much was said about the Vancouver Canucks and the Curse of the Presidents' Trophy – which by the way would be a bitchin' summer movie, unless of course it starred Nicolas Cage.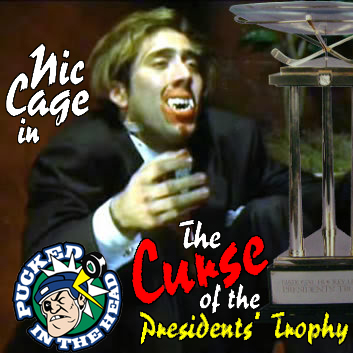 Anyway, since 1986, when that particular piece of bling was adopted for the top points-getter in the NHL regular season, just 7 of its 24 recipients have gone on to win the Stanley Cup. Loads of people predicted when the Canucks became the 25th team to be engraved upon the PT that they'd fall under that spell, too. "Look at Washington last year," they crowed, "and San Jose before them." Well look no longer, folks, because the stats are now on Vancouver's side. Of the nine teams to win the Presidents' Trophy and make the Stanley Cup finals, only two have lost. The Canucks not only have a red hot team with a solid roster going into the fourth round, they have 78% of historical precedent behind them.
2. Roberto Luongo needs a new publicist. With the exception of two questionable games against Chicago, this guy has been absolute money for Vancouver since dropping the captain's C from his mask last off-season. Was he the story in the paper? No. Henrik with his four assists in game 4, or Kesler tying game 5 on a pulled groin (see #3), or Bieksa with his cheeky winner (see #7) – these are the stories. Well, to quote Alain Vigneault from his game 4 presser, "Isn't anyone going to ask about my goalie?"
Roberto Luongo won a gold medal for Canada last year, took the Canuck organization's unceremonious switch of goalie coaches as professionally as can be, and if Tim Thomas hadn't thrown down a record-breaking season in Boston, he'd be carting home a Vezina trophy to go with the Jennings he won with backup Cory Schneider. With 87 saves on 91 shots, he essentially stole the last two games from the San Jose Sharks. Not counting the Blackhawks (whom the entire Canucks team seems to wobble against), Bobby Lou is nine games over .500 with a miniscule 1.95 goals against average and a majuscule .934 save percentage. (Yes, 'majuscule'. Look it up.) And yet, there are still people who don't believe that Luongo is the guy. There are people who think he is somehow the weak link the Canuck machine – seriously, people, you're putting Luongo in the same category as Dan Cloutier, Alex Auld and Kevin Weekes? As we tweeted immediately following game 5, all y'all who hated on Bieksa, Luongo and/or the twins can suck it long, and suck it hard. This netminder is for real, folks. He ain't no goaltender of the future. He's the goaltender of right freakin' now. And win or lose in the finals, he deserves some platitudes to go along with his $10-million contract.
Roberto Luongo is no Dan Cloutier, and I will thank you very much for not implying that Roberto Luongo is anything like him. In fact, don't mention Dan Cloutier and Roberto Luongo in the same breath. D'oh! I just did it myself! Look what you made me do.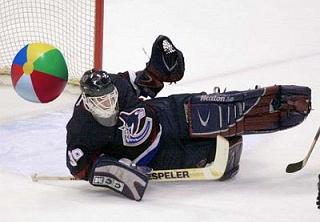 3. Whether or not you're a home-wrecking puck bunny, you have to wonder how Ryan Kesler's groin feels today. On a seemingly harmless race for the puck in the second period, SuperKes pulled up lame and limped straight to the dressing room. Canuck faithful were nervous for most of the next period and a half, even after RK17 returned, especially after he shied away from hits he would normally take. Environmentalists have announced that the amount of held breath in British Columbia Tuesday night reduced carbon dioxide emissions for the month of May to 1920 levels.
Is it truly surprising, though, that it was Ryan Kesler flying through the neutral zone with five minutes to go, tapping the ice and wanting the game on his stick? That it was Ryan Kesler taking the ultimate offensive zone faceoff with one last chance to avoid a game six at the Shark Tank? That it was Ryan Kesler standing in front of Antti Niemi in the dying seconds of the third period? That it was Ryan Kesler tipping home Henrik Sedin's weak wrister with 13.2 seconds left to send it to overtime? The only real surprise was that it was Ryan Kesler smiling ear to ear on CBC post-game. Environmentalists have announced that the collective sigh of Kesler-loving females around the province increased carbon dioxide levels for the month of May to 2011 levels.
Just as Henrik needed a few days to rest his upper-body, mid-body, and/or lower-body injury/injuries after round two against Nashville, Kesler had better use these few days before the final to his advantage. Rest up, Kesler's groin (which by the way would be a bitchin' adult movie, unless it stars Nicolas Cage).
4. No matter how much you love the Canucks, you've got to feel sorry for the San Jose Sharks. These poor bastards are running out of ways to lose. Joe Thornton is a grade-A superstar who garnered an early reputation in Boston as a playoff choker. Hardly fair, as he just didn't have the supporting cast to go far, and damn it he was young! Now in San Jose he's peppered with the same questions, despite the fact that he's one of the best passers in the game, a gold medalist for Team Canada and gosh darn it, one of the nicest guys in hockey. He was the Sharks' best skater by far in all three series this year. He played the last game of their playoff with a separated shoulder, and still dominated at both ends of the ice. After three rounds, he's tied for third in playoff scoring – just how does he deserve the labels? He doesn't even deserve questions about the labels any more. Sure, Dany Heatley sucked, and has sucked in the playoffs, throughout his career. But the rest of the Sharks? Patrick Marleau scored huge goals. Dan Boyle was smooth and crafty. Antti Niemi was spectacular. And they lose on that goal? It's going to be another long summer in San Jose.
5. I'm all for letting the players play, but the officiating in game 5 was just ridiculous. Okay, I don't want to see the constant whistles of games 3 and 4; the referees were far too visible in those games, and the quality of hockey suffered for it. Game 5 was exactly the opposite problem. The zebras were so concerned with not making too many calls that they didn't make enough. The road to hell, as they say, is paved with poorly called hockey games. Alex Edler slammed Devin Setoguchi in the helmet with his twig. No call. Kevin Bieksa was slewfooted in the slot. No call. Mason Raymond lost parts of two teeth on an OT high stick. No call. Sometimes a penalty is a penalty, and it needs to be called – or someone is going to end up seriously injured.
6. The Sedins were at their most dangerous Tuesday night, with loads of puck possession and tons of scoring chances. The first period goal by Alex Burrows was a thing of beauty, manufactured out of nothing and exhibit A in the case of Sedin v. Idiots Who Hate on Them. Just about the only thing these guys didn't create a lot of was shots. Sometimes, as Ryan Kesler's tying goal and Bieksa's series winner attest, just getting the puck to the net is going to get the job done. A garbage goal once in a while won't hurt you, Henrik.
Those highlight goals sure are pretty, though.
7. On Tuesday night, Kevin Bieksa threw the best knuckler this side of Boston Red Sox legend Tim Wakefield. (Yes, we at Pucked in the Head watch other sports too.) Not the prettiest goal in team history, but as Bieksa himself said after ending one of the closest five game series I've seen, "we'll take it." Surely enough bounces have gone against the Canucks in their playoff history to justify this once being smiled upon by the hockey gods. Here are just four of the odd bounces to go the other way over the years:
1982: With 12 seconds left in the first overtime period against the New York Islanders, a faceoff sends the puck deep into the Canuck zone. Instead of ringing the puck up the boards, Harold Snepsts tries to feed his forward up the middle of the ice. Who picks off the pass? Noneother than the game's most dangerous sniper, Mike Bossy. Thank you very much, Harold. Let me just snap this top corner past Glen Hanlon, and then we can be on our way to the pub. BAM. 1-0 New York. The Canucks lose four straight to the Cup champion Islanders.
1989: Jim Peplinski fires the puck at a pair of players approaching the goal in the first round, game 7 OT. Joel Otto turns his left skate to knock the puck in, and the goal stands despite dozens of similar goals being overturned by referees through the season and playoff before it. The Calgary Flames go on to win the only Stanley Cup in team history. Canucks fans are still wound up about it to this day – the only redeeming factor for most of us? At least Lanny got his name on the Cup.
2002: The Canucks surprise a lot of people by taking the first two games at Joe Louis Arena against the heavily favoured Red Wings. Dan Cloutier surprises even more people by turning in a stellar performance in Motown – he stops 85 of 91 shots for a .934 save percentage. The first half of game three is more of the same, until… With the score tied 1-1 with under thirty seconds to go in the second period, Nicklas Lidstrom bounces a shot past Cloutier from centre ice. The Canuck netminder's confidence disintegrates – he allows 10 goals on 35 shots over the next four games (a save percentage of just .714) and the Canucks are tossed in six by the eventual Cup winning Wings. Images of Cloutier with a beach ball in his net populate discussion boards to this day.
2007: Roberto Luongo decides to play referee when Rob Niedermeyer flattens Jannik Hansen along the boards. He puts his hand up and looks to the ref in the corner, pleading for a double overtime power play. Instead, he can only watch as Rob's brother Scott flips a soft 59-foot wrister along the ice and into the far corner. The Canucks hadn't played poorly, but there they were, eliminated in five games by the eventual Cup champion Ducks. (Are you starting to see a pattern here? Cup winners don't make these types of mistakes at crucial times. That's why they win.)