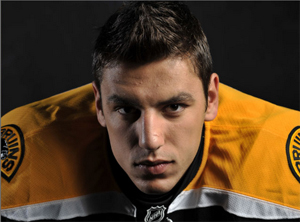 7. Fitting that Milan Lucic would figure prominently in a tight-checking, hard-hitting Eastern Conference final game seven. Forget that the Lightning have three of the best pure scorers in the game. Ignore the fact that Dwayne Roloson had never lost an elimination game before Friday night. Hell, throw off the balcony the observation that Zdeno Chara and Martin St Louis are so disparate in size that anthropologists don't consider them to be from the same species. Looch deserves the trip to the finals because he's from Vancouver. He led theVancouver Giants to the city's first Memorial Cup in eleventy million years. His maternal uncle played for theVancouver Canucks. What more do you need? This storyline writes its bad self.
6. Yeah, yeah, San Jose Sharks forward Dany Heatley played with a broken hand. So what, guys play injured all the time in the playoffs. Besides, sprained ankle or not, the guy hasn't shown up any other playoff, so why should he start this year? Ryane Clowe and Joe Thornton both had separated shoulders? Meh. Been there, done that. Clowe couldn't put on his own jersey? Wah. Mario Lemieux scored four points in a game after having Jagr tie up his skates, and he had frickin' lymphoma. What's that you say? Thornton severed his fingertip before the end of the season. Frickin' severed!?!? Are you kidding me? It ain't Sami Salo and his Balls of Steel, but damn. Playing with a severed finger. Joe Thornton is a stone cold beast.
5. The worst part about being Joe Thornton? He still feels phantom feelings of playoff loss where his fingertip used to be. Zing!
4. Manny Malhotra was cleared for light contact? Good grief. If he plays in the final, this entire city will erupt. Just keep him away from Zdeno Chara's shot, Zdeno Chara's stick and for the love of all that is holy, do not let Zdeno Chara hit him with Zdeno Chara's body.
3. As excited as Bruins fans must be right now – and remember, you firebomb-happy hooligans, I've got two signed Gerry Cheevers 8x10s hanging in my den – the only reason their team is in the finals is because the zebras put whistles in pockets for the entirety of the deciding game. The Bolts were deadly with the man advantage this playoff, scoring 17 goals on 67 chances for a total efficiency rating of over 25%. The Bruins, on the other hand, scored just 5 times in 61 chances. (To put that in perspective, the Phoenix Coyotes scored 6 power play goals in the process of being swept by the Red Wings in the first round.) At 8.1%, the Bruins have the worst power play to ever make the Stanley Cup final. A big golf clap to Tomas Kaberle and his fat paycheque in Beantown. The only way the Bruins get Cam Neely that first ring is if they (a) stay out of the box – for pretty much the entire series – and (b) cool off the NHL's best power play this year. The Vancouver Canucks have scored at nearly a 30% clip with the man advantage this post-season, and won at least one game against the Sharks on power play and goaltending alone.
2. Glenn Healy of Hockey Night in Canada has railed against the Green Men countless times, and perhaps even made a good point – to steal from Robin Williams – that prime time TV probably isn't meant for two yahoos with outfits so tight you can tell what religion they are. But Healy's ire is in part responsible for the continuation of the media spotlight upon the Green Men. Let's face it, Glenn, if you'd have just shut your cake hole for once, their 15 minutes may have been up by now. But at least now we have photographic evidence to suggest that the boys dressed like mouldy sperm have… well, non-mouldy sperm. No, no, it's not what you're thinking. Check out Kelsey Lewis (left) and Kay Simpson at a recent Canucks game with the famous-for-the-moment duo, and their heirs apparent. Whatever those jade get-ups they wear are made of, it apparently ain't latex.
1. The NHL, in its infinite non-existent wisdom, has scheduled the first game of the Stanley Cup finals for Wednesday, June 1. In doing so, Bettman & Co have given the Boston Bruins a full five days' rest, and effectively eliminated any advantage Vancouver might have earned by dispatching their opponent in five games. They have also given us hockey bloggers plenty of time to look up and share meaningless statistics. Like this:
The last time the Stanley Cup was won by a number one goalie who also wore #1 was in 1975. That year, Bernie Parent won his second consecutive championship with the dirty rotten stinkin' Philadelphia Flyers. Little known fact: "dirty rotten stinkin' Philadelphia Flyers" is actually the name that appears on the team's long form birth certificate. Anyhoo, here are the goalies who've won the Cup since then, and their jersey numbers:
1975: Bernie Parent, Philadelphia Flyers, #1.
1976: Ken Dryden, Montreal Canadiens, #29
1977: Ken Dryden, Montreal Canadiens, #29
1978: Ken Dryden, Montreal Canadiens, #29
1979: Ken Dryden, Montreal Canadiens, #29
1980: Billy Smith, New York Islanders, #31
1981: Billy Smith, New York Islanders, #31
1982: Billy Smith, New York Islanders, #31
1983: Billy Smith, New York Islanders, #31
1984: Grant Fuhr, Edmonton Oilers, #31
1985: Grant Fuhr, Edmonton Oilers, #31
1986: Patrick Roy, Montreal Canadiens, #33
1987: Grant Fuhr, Edmonton Oilers, #31
1988: Grant Fuhr, Edmonton Oilers, #31
1989: Mike Vernon, Calgary Flames, #30
1990: Bill Ranford, Edmonton Oilers, #30
1991: Tom Barasso, Pittsburgh Penguins, #35
1992: Tom Barasso, Pittsburgh Penguins, #35
1993: Patrick Roy, Montreal Canadiens, #33
1994: Mike Richter, New York Rangers, #35
1995: Martin Brodeur, New Jersey Devils, #30
1996: Patrick Roy, Colorado Avalanche, #33
1997: Mike Vernon, Detroit Red Wings, #29
1998: Chris Osgood, Detroit Red Wings, #30
1999: Ed Belfour, Dallas Stars, #20
2000: Martin Brodeur, New Jersey Devils, #30
2001: Patrick Roy, Colorado Avalanche, #33
2002: Dominik Hasek, Detroit Red Wings, #39
2003: Martin Brodeur, New Jersey Devils, #30
2004: Nikolai Khabibulin, Tampa Bay Lightning, #35
2005: season cancelled due to great ugly pissing match
2006: Cam Ward, Carolina Hurricanes, #30
2007: Jean-Sebastien Giguere, Anaheim Ducks, #35
2008: Chris Osgood, Detroit Red Wings, #30
2009: Marc-Andre Fleury, Pittsburgh Penguins, #29
2010: Antti Niemi, Chicago Blackhawks, #31
2011: Tim Thomas? Boston Bruins, #30
2011: Roberto Luongo? Vancouver Canucks, #1