1. Before this series, this series was billed as Zdeno Chara vs the Sedin twins. None of those three have lived up to the billing, but it's still worth the time in Photoshop. Pucked in the Head presents, Charzilla versus the Mothratwins.
2. Amazing what a little confidence will do for you. The Vancouver Canucks swaggered into Beantown with a 2-0 series lead in the Stanley Cup final, and dominated the first period in front of a hostile Boston crowd. Then, immediately after the opening faceoff in period number two, Alex Edler's stick explodes on a pass of all things, directly leading to Boston's first goal. A few minutes later, Mark Recchi banks a power play goal off of Kesler's stick past Luongo. Bang. Five minutes into the second period, two bounces, and the Bruins are up two nothing against the flow of the play. Credit the Bruins for taking it to heart, and pasting the Canucks on the scoresheet. Before game three, Roberto Luongo was making an argument for playoff MVP by his stats alone. That's until the Bruins won it by a converted touchdown. Shame on the Canucks for folding the way they did. Double shame on Canucks coach Alain Vigneault for leaving Lou in for all eight goals. This loss was far from his fault, but now the whispers of "Put Schneider in" will surely echo around the garage where they park the Canucks bandwagon for the night.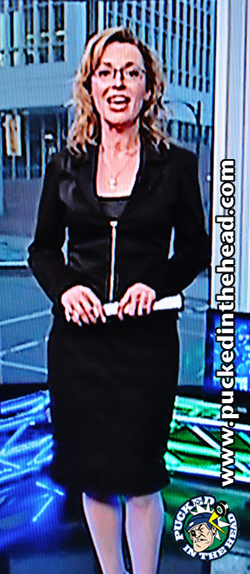 3. Thank you, Jody Vance, for giving Vancouver-based viewers something to cheer about on Monday. Your stunning piece of yowza (left) on the Seeking Stanley postgame show – yowza work, I said, your stunning piece of work – made it all worth while. SIGH.
4. Don't be fooled, hockey fans. No matter the final score, it was Tim Thomas and Tim Thomas alone who won this game for the B's. Sure, Alex Burrows embarrassed him on the winning goal in game two, but wow, did he ever come back with a dominant performance Monday night. He stopped breakaways, he made poke checks, he flattened Henrik Sedin with a massive bodycheck just north of his crease. CBC ran a stat I've never seen in a lifetime of watching this great sport called hockey: Tim Thomas – Saves: 35. Hits: 1 His saves on Mason Raymond late in the first period were what Stanley Cup legends are built on. His leveling of the Canuck captain may just spur the Bruins enough to give them a chance in this series. No matter who wins this series, Tim Thomas is a front runner for the Conn Smythe trophy.
5. Several hundred thousand Vancouver fans have taken to the streets over the past week to celebrate the Canuck success in the playoffs. Most of them have partied rather heartily, as prior to Monday's game three, their heroes looked pretty unstoppable. While these three gentlemen below may have been a little over the top in their body painting and their nipple twisting, who could really blame them? Home teams taking a 2-0 lead in the final have won the Stanley Cup 94.5% of the time. That's right, true believers: ninety-four-point-five freakin' percent. What doesn't impress us at Pucked in the Head is the lack of imagination it takes to prance around the downtown core plastering "Fuck Boston" stickers everywhere, and chanting it in front of hundreds of families and their kids. Stay classy, Vancouver. Even when you're dialing a radio on your best buddy's glittery chest – hey, it's nothing we haven't seen at a Pride Parade before – stay classy.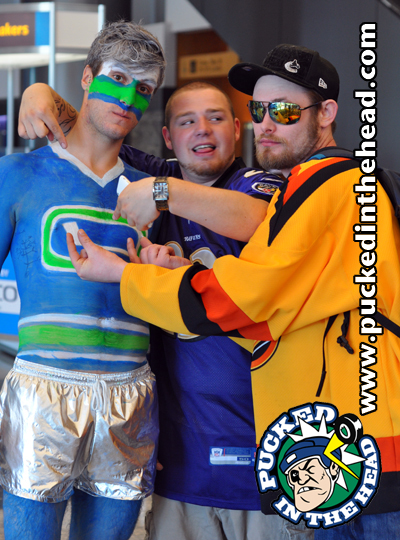 6. Speaking of staying classy, we have a few good-on-ya's to toss out there after a rough and tumble game three:
Mark Recchi is the oldest player to ever score a goal in the Stanley Cup final, at 43 and change when he scored in the game two loss on Saturday, he was a full two years older than Igor Larionov was in his Cup win with Detroit. And just to put an exclamation on that particular record, he scored a pair in game three. Good on ya, Mark Recchi, for proving your ice time is no charity shift for an old-timer.
Claude Julien called out Mr Recchi after game three. Seems the oldest guy on the Bruins is also one of the least mature, according to his coach. Julien complained about Maxim Lapierre's taunting of Patrice Bergeron after the whole Alex-Burrows-bit-me thing. He claimed his guys would never wave fingers in the opposition's face – they were too classy for that. Well, both Recchi and Milan Lucic proved the Beantown bench boss wrong in game three, flaunting their knuckles under the noses of Lapierre and Burrows, respectively. Or, more accurately, disrespectfully. Expect those two Boston forwards to do a few wind sprints in practice before game four. You don't embarrass the coach, you guys, even when you win by seven goals. Good on ya, Claude Julien, for saying so in the post-game presser.
Johnny Boychuk accidentally high sticked Victor Oreskovich late in the second period, and not only tried to catch the young Canuck as he went down, he immediately apologized and asked if he was okay. Most guys just figure, that guy's wearing the other colour jersey, so screw him. Nope. He fessed up and made sure the other guy was all right. Good on ya, Johnny Boychuk, for putting a refreshingly human face on the game.
Manny Malhotra went 6 for 7 in the faceoff circle in his first game back from his devastating eye injury. More impressively for this Canucks fan, however, he showed why he's so popular in the room in the third period when the game was far out of reach. His attempt to get the puck deep went up into the Boston bench, so he quickly skated two strides in their direction and – similarly to Boychuk above – made sure everyone was all right. Good on ya, Manny Malhotra, for showing everyone that the spotlight upon you hasn't been wasted. You's good people, yo.
7. In game three of the first round, Raffi Torres smoked Keith Seabrook behind the net with an entirely questionable hit to the head. Seabrook ended up missing two games with concussion symptoms. Even some Canucks fans – myself included – called for Torres to be suspended, but the NHL surprised everyone by allowing Raffi to play. The result? The Chicago Blackhawks woke up, took it to the Canucks and ended up forcing a seventh game.
Early in game three of the Stanley Cup final, Aaron Rome delivered a late, arguably blindside blueline hit to Bruin forward Nathan Horton. Horton hit his head on the ice, and a worried hush fell over the Garden – a neuroscientist friend of mine said that Horton's arm lingering in the air like that is a classic symptom of not just a concussion, but of a brain seizure. He was taken off the ice on a stretcher, straight past the quiet room and to hospital for observations. The result? (Besides Horton missing the remainder of the playoffs, and who knows how much longer?) The Bruins woke up, scoring four goals in the second period and climbing back into the series.
You never like to see skilled players like Seabrook and Horton leave the game, especially at the hands – or elbows, sticks or shoulders – of middle of the road guys like Torres and Rome. But you can't argue with the results for the teams of the victims. Not these two, anyway.
Game four goes Wednesday. May the best team win, just as they've done the past three games.