After nearly a month of NHL free agency, over one BILLION dollars has been handed out to 162 players this off season (thank you, capgeek.com), and (apologies to Kyle Wellwood) all but the dregs of this weak free agent pool have been snapped up. Because all things must, inevitably, be reduced to a competition in the world of sport, here are the seven winners of this year's off-season.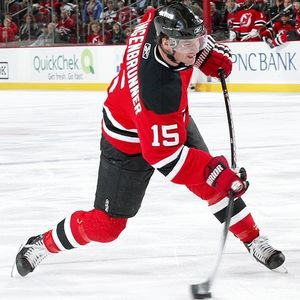 1. The St Louis Blues have been a bad team for a while. With only one playoff appearance in their last six seasons, the Missouri organization has been replete with high draft picks. Guys like TJ Oshie, BJ Crombeen and TJ Hensick have been seeing regular minutes with the big club. (So have players with actual first names, like Patrick Berglund – seriously, people, what's wrong with giving kids names with vowels in them?) What St Louis has seemingly lacked is quality veterans to show their prospects the ropes and level out the highs and lows that come with inexperience. It doesn't help that two of the guys who were supposed to bring that stability – Keith Tkachuk and Paul Kariya – have not suited up since the end of the 2009-10 season. Doug Armstrong sought to remedy the situation this off-season, first by re-signing virtually all of his restricted free agent prospects. He then brought in a ton of experience: Jamie Langenbrunner and Jason Arnott, two well-respected (read: old) leaders join the Blues this year, as do defenseman Kent Huskins and centre Scott Nichol. Johnathan Cheechoo was also inked in hopes he can have a renaissance in the Show-Me State. While it may not be enough to get the Blues into the playoffs in a tough Western Conference, Armstrong looks to have made an already plucky core of youngsters even better, and they should at least be in contention for the eighth spot.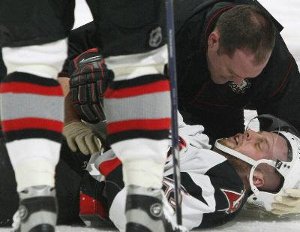 2. Brian Burke has seemingly stopped screwing around. Nobody's predicting a division title for the Leafs this year – well, no well-adjusted body, anyway – but a series of savvy moves by their GM has put the Buds back in the playoff discussion. July 1 saw Toronto acquire oft-injured Buffalo centre Tim Connolly: a high-risk, high-reward acquisition, as a Kessel-Connolly-Anybody first line should be a consistent producer whenever the Brittle One suits up. Burke then went out and bolstered his defense corps, acquiring John-Michael Liles from the Avalanche for a song, and plucking Cody Franson out of Nashville in return for the much-maligned Brett Lebda and a prospect. Not only did they get a good young defenceman in Franson, Nashville also shipped out the injured Matthew Lombardi. If he recovers, Toronto picks up one of the best pure skaters in the league for free – any Calgary Flames fan will tell you, Lombardi can skate faster than an autumn gale through McMahon Stadium. Like Connolly, however, Lombardi also promises to challenge the Leafs training staff – he played just two games last year before stepping aside with concussion symptoms. If Lombardi doesn't make it back, Burke loses nothing. The Leafs will simply have another $3.5M in cap space to play with at the trade deadline.
3. Chicago had one goal this off-season: flexibility. The Blackhawks had over half of their payroll, around $35M, tied up in just six players. The team's depth suffered such that the defending 2010 Stanley Cup champs barely snuck into the playoffs last year – sure, they still managed to put the fear of stink in the Canucks, but that was as much due to mental errors by Vancouver as it was to good play by Chicago. Stan Bowman addressed the Blackhawks cap situation by shipping Brian Campbell and his $7M cap hit to Florida, along with negotiating rights to Tomas Kopecky. Bowman also let playoff goat Chris Campoli walk, much as San Jose Sharks GM Doug Wilson did with penalty box squatter Ben Eager. The Hawks then added a number of bit players: namely, Andrew Brunette, Jamal Mayers, Sean O'Donnell, Dan Carcillo and Steve Montador. The Blackhawks have toughened up an already excellent core and should be back in the mix near the top of the Central Division.
4. Carolina, similar to St Louis, wins mostly on the merits of locking up their young core. Brandon and Brett Sutter return to the 'Canes, as do Finnish pop trio Joni, Jiri & Jussi. (I know Jiri Tlusty is Czech, shut up.) While the loss of unrestricted free agent Erik Cole to Montreal will sting a bit, Jim Rutherford has tried to bolster the Carolina attack from the back end, adding Tomas Kaberle to move the puck. Don't let his fair-to-middling performance in Boston last year fool you – Kaberle's got himself a ring now, and his presence should also help out the Hurricanes power play, which languished in 24th place last season. Throw in some depth signings in Alexei Ponikarovsky and Brian Boucher, and there's no reason the boys from Raleigh can't improve on their 9th place finish in 2011.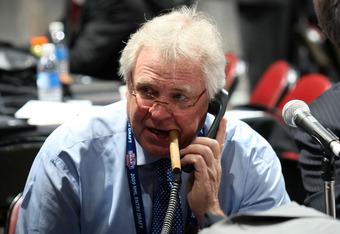 5. Of the people who are aware that the NHL exists, there is a sizable subset who believe that Glen Sather is an awful, awful general manager. We call these people "hockey fans". This is the guy who once threw $70 million at Darius Kasparitis and Bobby Holik in the same off-season. The guy who's paying Wade Redden $6.5M to play in the AHL, because no NHL team would take on his contract. The guy who… you know what? Read this. See? Well, he finally got something right. He kicked off the free agent frenzy by signing the cream of the crop, Brad Richards. Then, he stopped. He realized that he'd finally stumbled into a really good signing and made absolutely no more transactions of any import. The Rangers took a playoff roster, one that played the top-seeded Capitals tough in the first round, added a marquee player that shouldn't bust, and didn't lose anyone. They'll be good this year.
6. There are two teams that stood head and shoulders above the rest this off-season. Washington made the less flashy moves of the two. The Capitals, first in the east last season, got annihilated in the second round by Tampa Bay. They took a hard look at their performance and decided they had two main problems. First, many of their players took the playoffs as an excuse to curl up in the fetal position and dream of vodka, borscht and the ample bosom of Mother Russia. Second, their goaltenders were young and not quite ready for prime time. The latter was easily resolved; all it took was George McPhee going out and signing Tomas Vokoun to a 1-year, $1.5M deal that's so ridiculous, by current market standards, that Vokoun fired his agent days after inking the contract. Add in the unexpected re-upping of Brooks Laich, the additions of gritty playoff performers Joel Ward, Troy Brouwer and journeyman defenceman Roman Hamrlik, and the Capitals should be atop the Eastern Conference for the third straight season. Who knows? These changes may actually translate into some post-season success as well.
7. In what was almost certainly the biggest Kings trade since Gretzky came to La La Land, Los Angeles took advantage of the nuclear device Philly GM Paul Holmgren detonated in his locker room to acquire Mike Richards. Top prospect Brayden Schenn was the price they paid, with Wayne Simmonds included to balance the deal. While Schenn is untested at the NHL level and Simmonds' production dropped last season, Richards is a two-time 30-goal/75-point scorer on a long-term deal. Throw in Simon Gagne on a free agent signing and a healthy Anze Kopitar, and the offense that struggled at times last year should have no problems with depth or high-end punch. Their goaltending offers one of the most enviable tandems in the league, with Jonathans Quick & Bernier competing for ice time and gaudy save percentages. Once Drew Doughty's contract is finalized, Los Angeles will be a very complete team, and should give San Jose a run for the Pacific Division title.