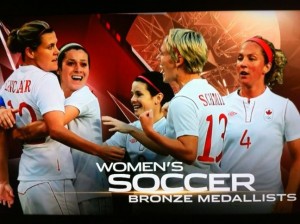 It's strange how our reactions to results vary depending on when we're asked to respond to them.
If you'd told me after the 2011 Women's World Cup that Canada was going to win bronze in the Olympics next year, I likely would have giggled and asked if you'd been watching. The Canadian ladies failed spectacularly in that tournament, crashing out after losing all three games in the group stage. That was a dark time.
If you'd told me about our impending bronze after the resignation of Carolina Morace and the hiring of her replacement, John Herdman, I would have told you to rein in your expectations. This is Canadian soccer we're talking about, after all. Let's see what happens.
If, after Christine Sinclair had chipped the Mexican keeper to send Canada through to the Olympics, you'd brought up that we were about to be third in the world, I wouldn't have heard you, because we were all too busy going fucking mental.
Had you waited until after the cruel semifinal, where victory over the top-ranked Americans was ripped away by a glory-hunting Norwegian ref in a game too big for her, I may have punched you. Nothing personal. Bad reffing always gets me all punchy.
I might have yawned if you'd told me before the game this morning because 5am.
At halftime, or even at the 90th minute, I simply wouldn't have believed you. The French were the better team. Desiree Scott cleared the best chance off the line, and the French attack failed to convert more chances than I can count. It took until the 92nd minute for Canada to even muster a shot on goal. And what a shot on goal.
Canada deserved better. That goal should have crushed the Japanese, not the French. It should have been the Yankees getting up at the crack of dawn for a crack at third. Right now, though, it doesn't matter. After the utter travesty of the semi-final, this medal feels as good as gold. Diana Matheson's goal won Canada its first medal in Olympic football since the men won gold back in 1904. It was the first Canadian medal in ANY traditional Olympic team sport since all the way back in 1936 when the men's basketball team earned a silver.
As it turns out, that song we sang at BC Place back in January, at the Olympic qualifiers, was true. Qué será, será / Whatever will be, will be / We're going to Wembley / Qué será, será.
The medal presentation should take place around 1:45 PDT at Wembley Stadium in London. Congratulations to the Women's National Soccer Team on one of the great Canadian Olympic performances of all time. You won a medal, but, more than that, you inspired the next generation of Sinclairs, Mathesons and Scotts. We're all proud of you.