It's amazing what having a proven goal scorer can do for your side. When you don't have one, sometimes you get games like last year's tilt between Vancouver and New York Red Bulls, where Erik Hurtado couldn't hit the ocean from a boat. When you do have one, you get games like last night, where a Fredy Montero brace earned the Whitecaps a win in 2017's Cascadia Cup opener despite them being outplayed and outchanced. I was not in the building on Friday evening due to work, so this post is based on a viewing of the game two days later, with the result already known. My conclusion is this: some of your perceptions are clouded by what looked like a great derby atmosphere and a win. 
Let's start with the good news. A win! A glorious Cascadian win! The attack looked somewhat dangerous. Alphonso Davies had a really good game after getting a rest last week. Cristian Techera continued to look like he was back to his 2015 form, earning an assist with a beautiful cross on the opening goal. Christian Bolaños isn't who we want in the middle of the park long term, but he's filling in admirably until Yordi Reyna returns or Vancouver picks up somebody new. And did I mention that we won?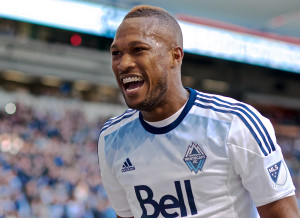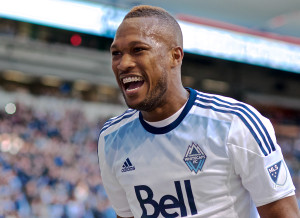 And now, the bad news. This is where I disagree with a lot of the online post-game consensus. Defensively, Vancouver was not at all good, and was incredibly lucky not to concede more than a single goal. There was quite a bit of talk about Kendall Waston being man of the match if Fredy Montero hadn't scored his brace. My goodness no. Sure, the guy accounted for 11 out of the Caps' 33 clearances on the night, but he stands out mostly for being in the right place at the right time to clear two different shots off the line. Jordan Morris absolutely owned him on several occasions, and didn't end up with a brace only because the service to him on those occasions was incredibly poor. At least twice in the second half, Morris got on the wrong side of Waston in the box only for Clint Dempsey, who was otherwise excellent, to lead him too far with his pass. Had the passes connected, as they really should have, Morris would have had two uncontested shots from just inside the penalty spot.
The Caps' passing was also not very good. Vancouver managed a 73% completion rate, which just isn't good enough for the style they want to play. Carl Robinson insists on his counter-attacking style of play, letting the opponent have as much of the ball as they please (61% on Friday), so the club simply must take care of it when they do have it. When you give the ball away as cheaply as Vancouver tends to, you end up with long spells of pressure for the opposition, like the first twenty minutes against Seattle, where Vancouver couldn't seem to get out of their own end.
Don't get me wrong, I'm thrilled that we beat the defending champs, but this game didn't do much to change my perception of the Whitecaps. I still look at them and see a middling team capable of being both very good and very bad, and lacking a piece or two necessary to be a true competitor this season.