Nearly 1,200 fans were treated to a dramatic opening game of the Coastal Conference Final on Friday night, as the Surrey Eagles edged the Alberni Valley Bulldogs 1-0 to keep home ice advantage in the best-of-seven series. Demico Hannoun scored on a breakaway, and Michael Santaguida earned his third shutout of the playoffs in game that was tightly contested in all areas of the ice.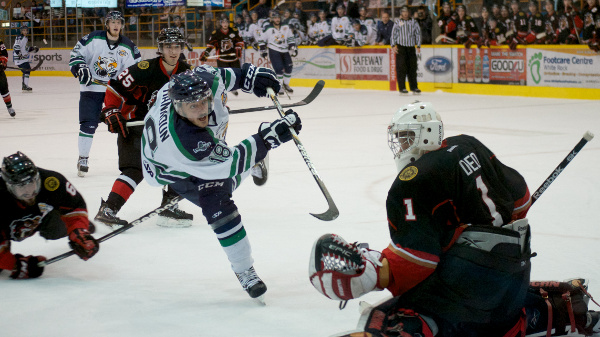 Brady Shaw and Michael Stenerson earned assists on Hannoun's goal, which came with just 1:21 remaining in regulation time. Shaw was prominent in the Bulldogs zone all night long, but didn't get the bounces until his pass found Hannoun all alone. It was the Eagles' 33rd shot on Bulldogs goaltender Jay Deo, who was especially solid in the first period when the Eagles held a substantial edge in play.
More on the game, including additional pictures, after the break.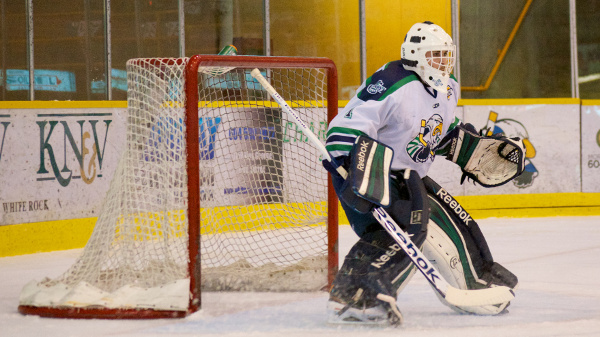 Don't let the official scoresheet fool you: it was Santaguida who made 29 stops for the home side to garner first star honours. (No, the Eagles did not hold the Bulldogs to zero shots through sixty minutes of play, nor did Bulldogs backup Brad Rebagliati make 29 saves from the bench.)
Despite the conservative-looking scoreline, this game was hard-hitting and fast-paced. Both goaltenders made tough saves through traffic, and both power plays had multiple opportunities to put the game away. The Eagles controlled play early in the first and much of the third periods, but were frustrated by Deo time and again. Alberni, for its part, had numerous great chances in the second period only to find Santaguida had other plans.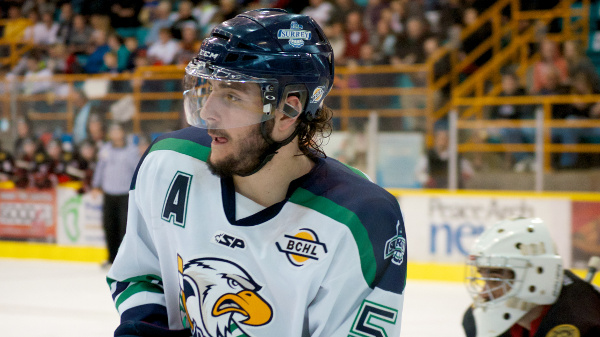 Game two of the series goes Saturday, March 30 at the South Surrey Arena. Games three and four are scheduled for the Weyerhauser Arena in Port Alberni on Monday, April 1 and Tuesday, April 2.