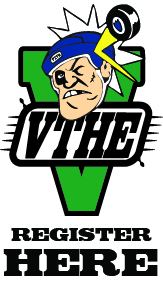 The title says it all. Global Morning News anchors Steve Darling & Sophie Lui jumped on the table hockey game with Jason this morning, giving some TV love to our September 20-21 event.
Weatherman for the ages Mark Madryga and traffic reporter extraordinaire Kaitlyn Herbst jumped in on the action, too.
Darling proved to be the top performer of the bunch, scoring thrice and looking pretty comfortable at the controls despite not having played in decades. Lui performed admirably for her first time, and full points to Herbst for transferring her love of soccer defensive play into some solid table hockey puck stoppage.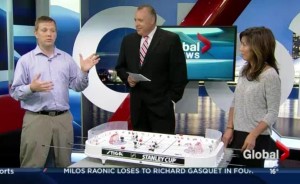 Madryga? He couldn't translate his hockey smarts into a goal until he lifted the game right up off the table, a clear violation of both table hockey rules and weatherman etiquette.
But we'll let it go this time, as long as he comes out to the media challenge on September 20. As for you, you can register for the tourney for just $25 here. Proceeds from the event will benefit Canuck Place and Five Hole for Food.