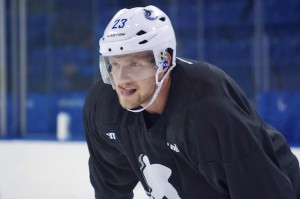 The Vancouver Canucks signed Alex Edler to a six-year, $30-million contract extension on the eve of the shortened 2013 season, according to General Manager Mike Gillis.
The move means two big things for the Canucks: 1) the team medical staff is confident that Edler's back is 100%, despite spasms and pains that kept him out of a number of games over the past two seasons. And 2) Vancouver will continue to have one of the deepest bluelines in the league for the foreseeable future.
More after the jump.