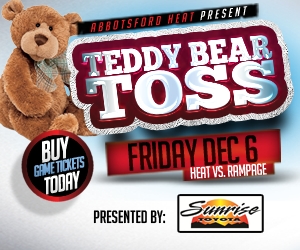 At 17-6-1, the Abbotsford Heat sit atop the American Hockey League standings. Two of those losses came in back-to-back home defeats to the league-worst Utica Comets last weekend, so it's fair to say the home team will turn up the heat on West Division rivals the San Antonio Rampage on December 6 & 7.
Friday is the annual Teddy Bear Toss, so here's hoping a spirited bunch show up to rain stuffed animal goodness upon the ice. (Bring a new, unwrapped bear to the rink, and toss it over the boards when the Heat score their first goal of the night. All toys are gifted to the Abbotsford Christmas Bureau, an organization that helped more than 3,500 children during the holidays last year.)
Perhaps that goal will be scored by Ben Street, this week named the AHL Player of the Month for November 2013. Street scored 11 goals and added 8 assists in 15 games, a big reason the Heat rattled off a franchise record 12 wins in the month.
As for the opposition this weekend, local hockey fans will likely recognize Ryan Whitney, a 10-year veteran of NHL action with the Penguins, Oilers, and Ducks. Also of note: Steve Pinizzotto, who had a cup of coffee with the Vancouver Canucks after the lockout.