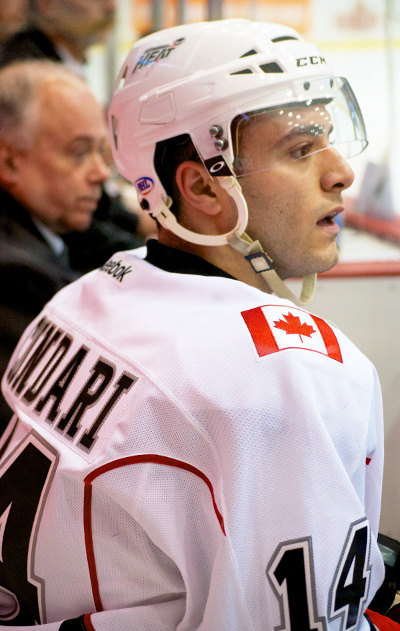 Hockey fans in Abbotsford were treated to another Hall of Famer at centre ice as the hometown Heat beat the Toronto Marlies 3-1 on Sunday afternoon. Two days after legendary forward Darryl Sittler opened the curtain on a 3-0 Heat win, goaltender Johnny Bower was in attendance to shake hands with Abbotsford goaltender Barry Brust, who earlier this season broke Bower's AHL record for consecutive shutout minutes. Brust went 268:17 without allowing a goal, eclipsing Bower's mark of 249:51, set with the 1957 Cleveland Barons.
Brust was called upon to relieve the injured Danny Taylor in the second period, and stopped all but one shot to record the win for Abbotsford.
Mark Cundari was again impressive for the Heat. He earned three assists, two minor penalties and a fight in his second game since being traded to the Calgary Flames organization in the Jay Bouwmeester deal. Cundari has quickly become a fan favourite in Abbotsford, leading many to lament the fact that he was not in the lineup earlier in the season when the team floundered through a series of "must-win" games.
In addition to the Bower / Brust tête-a-tête, fans witnessed the Heat's franchise-best 23rd home victory in the final game at the Abbotsford Entertainment & Sports Centre this season. Sadly, those 46 points gained at home did not add up to a playoff spot for the Heat, whose road record leaves much to be desired. The team sits in 12th spot in the Western Conference and were mathematically eliminated from the playoffs despite the back-to-back wins this weekend.
More after the jump.