The hot mess that is Pucked in the Head continues to spread its messy, hottie wings this week. Not only will we build on Ross Arbo's awesome coverage of BC Superweek and introduce our first single-A Vancouver Canadians baseball coverage, we're proud to bring into the fold a wee bit we like to call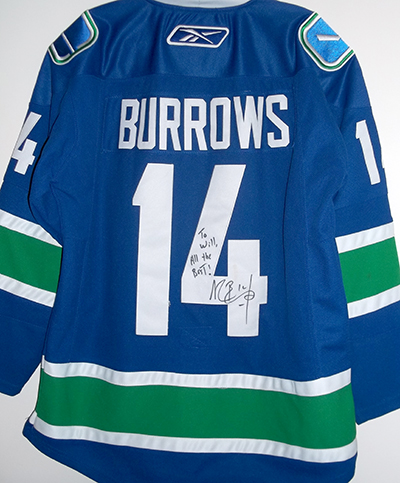 Memorabilia Memories #1 — Alex Burrows Canucks Jersey
My name is Will DeConto and I am hockey memorabilia collector. I collect just about anything to do with hockey, but my main focus is gathering signed memorabilia, which I have been doing for five years now. Pucked in the Head has graciously offered me a place where I can talk about pieces in my collection and how you can get into the hobby and build one of your own.
In a previous job in Vancouver, I had the opportunity to meet many Canucks through dealings at work (as luck would have it, that's also how I met Jason, the fellow who runs this very website). One of the most prized items in my collection is my signed Alex Burrows jersey. The reason: the story of how it got signed, which took more than four months.
More after the jump.