For at least the half-dozenth time this season, the Vancouver Whitecaps debuted a new lineup, and spent a good half hour making one think, "Hey, maybe they've got something here," only to spend the next 15 minutes making one make the "hrmmmm" emoji face. As they returned to MLS action following the international break, it was the if-not-white-hot-at-least-uncomfortably-warm Real Salt Lake providing the opposition. The 3-2 win was perhaps more laboured than it needed to be, but they'll all look the same at the end, and for now it's vaulted the club into third place in the Western Conference.
The first thirty minutes of this game was some of the finest football Vancouver has played all season. The punt was an option, but not an overused one. Mostly they kept the ball on the ground and generated a number of high-quality half chances. Cristian Techera was two hairs away from a hat trick, and Fredy Montero nearly had a goal of the year candidate when he barely missed connecting on a scissor kick. When the breakthrough came on 29 minutes it felt like the game was Vancouver's.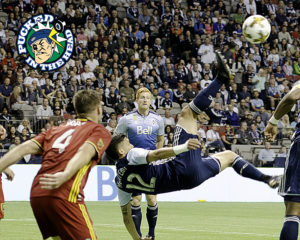 Then, as has been their wont this season, Vancouver regressed to their mean, route one mean. (That makes sense. Read it again.) Long balls. Missed connections. RSL still didn't look particularly dangerous, but they were at least getting forward. Still, it can't be said they really deserved the goal they got. A cross, a missed header and an unlucky roll. Some thought it was a poor showing by David Ousted, but I won't fault him on this occasion. He did well to even get a hand on it.
When the second half came around, things having become a tad stale, it was a set piece that once again got things on track for the Whitecaps. Yordy Reyna delivered a free kick to the reddish noggin of Tim Parker who nearly scored for the umpteenth time this season. The ball ricocheted off the post to a waiting Kendall Waston who made no mistake and brought the 20,783 in attendance back to life.
The eventual game winner came in the 64th minute when Bernie Ibini – largely invisible to that point – arrived with a baffling, fantastic, brilliant pass from inside the six-yard box right to the diving head of Yordy Reyna. How he knew to make that pass I expect never to know. It was shocking. NO forward passes up a shot like that. But it was absolutely the right play, and his unselfishness secured the win.
Down 3-1, throwing everything forward, RSL finally looked like they might score a goal, and they did. It made the final 10 minutes more interesting, but it would be as close as they would get.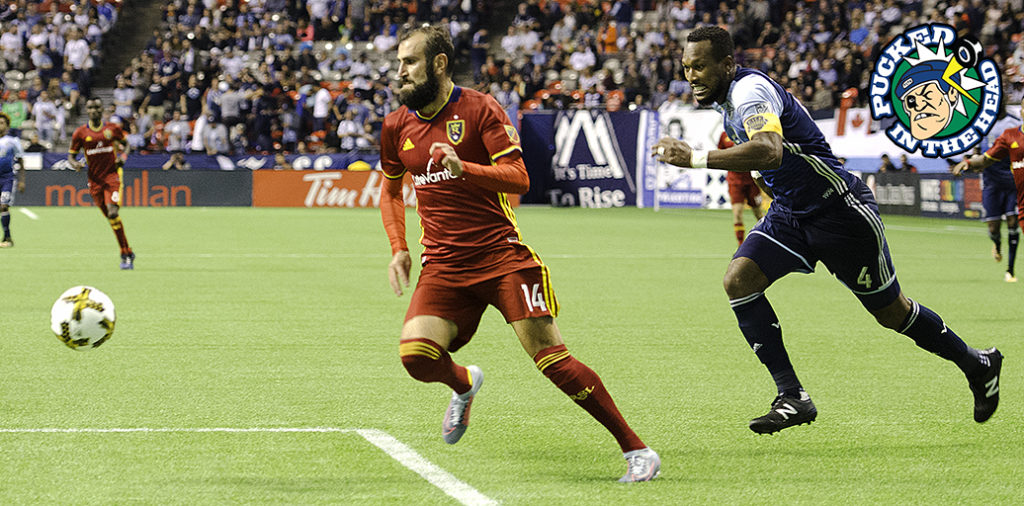 Now let's talk about the big story from this game. Aly Ghazal, Vancouver's now second-newest midfielder, finally made his debut in the starting lineup. (Side note: is this the first mid-season acquisition to jump straight into the starting lineup in the Robinson era?) Ghazal is the kind of player that the anti-stats crowd will point to when they make their "you can't count what he does" arguments. Because… well, you don't appear to be able to count what he does. The man doesn't tackle; he was 0-2 on the night. He doesn't pass very well; 21-32 on the night, albeit with six recoveries. He only had a couple of interceptions, a couple of clearances. He's just kind of… there… but in a good way.
He forced more bad decisions than I can count, letting Waston and Parker rack up the stats. He gets in there and stops the ball without lunging in for the tackle as Matias Laba often does. I'm not entirely convinced yet, but RSL had VERY few chances through the middle of the park, relying instead on balls to the wing, which is exactly what Vancouver wanted them to do. Exciting times, if they continue.
Grades
Goaltender: FIVE Pucks in the Head
David Ousted was solid if generally unspectacular. A couple of good reaction saves that looked nice but we probably would have been disappointed by if they'd gone in. One unlucky break on the first goal.
Defence: FIVE Pucks in the Head
Jake Nerwinski has rendered Sheanon Williams obsolete. There, I said it. Get rid of him and sign a cheap backup. Waston and Parker were on their games. Harvey was okay, but could have done better on the second RSL goal.
Midfield: SIX Pucks in the Head
Ghazal was fantastic. Tchani was fine except for that one time he just stopped and got dispossessed. Reyna, Ibini, and Techera all either scored or had primary assists. Tough to ask for much more.
Forward: FIVE Pucks in the Head
Honestly, Montero was almost playing as a midfielder. His best moments were passes. He had two key passes, which is decent for any distributor. Had he connected on that scissor kick, hooo boy.