One day before the Blue Bombers blew a 10-point 4th quarter lead in their season opener against the Montreal Alouettes, Jim Chliboyko wrote up his thoughts on the 2013 CFL season in Winnipeg.
Bombers start 2013 with cracks in the foundation. Literally.
And Investors Group Field has no apostrophes
by Jim Chliboyko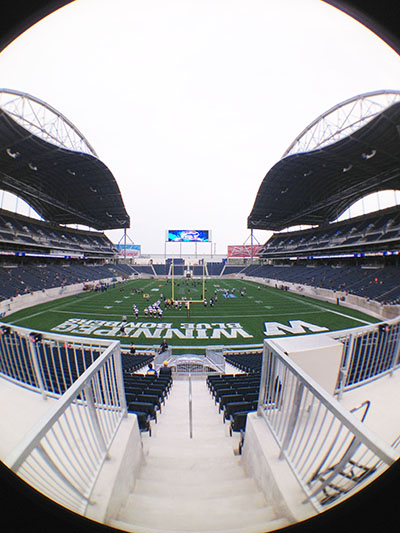 It's become part of a classy tradition in modern-day Rupert's Land; the Blue Bombers let go of a seemingly loyal soldier mere weeks before training camp, thus ensuring that said cut player won't be able to get any work elsewhere in the approaching season.
This is the second time in three years that this has happened in Bomberland. In 2011, utility fullback and versatile Canadian Jon Oosterhuis was released in June by Bombers GM Joe Mack, a move which was whispered to have been particularly malicious at worst, unfeeling at best. He evidently failed his physical, but there was chatter that the release was a classless move, coming after an earlier re-signing, with the failed physical (old knee injury, which had been cleared many times before) used as an excuse to cut the player.
This year, back-up quarterback Alex Brink was released in April. Evidently, this is a late point in the off-season to release a quarterback, and it followed the earlier cutting of Joey Elliott (who was then scooped up by the BC Lions), a pivot who alternately posts award-winning weeks (getting Player of the Week honours twice in a couple years), followed by an interception-laden furball the next week.
Brink did get a look from Toronto, for a quick try-out that lasted only a few weeks. So, stay classy, Winnipeg.
More after the jump.
Continue reading Cracks in the Foundation – Chliboyko on the Bombers →