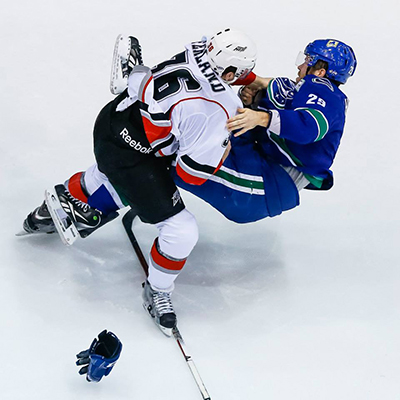 The Abbotsford Heat find themselves worrying about the Vancouver Canucks affiliate Utica Comets.
They don't need to concern themselves with a 3–2 decision to the lowly Comets on Friday night. Even after the loss, the Heat have won eight of their last ten games and sit in first overall in the AHL standings. The Comets, for their part, picked up just their fifth win of the year, and would not have done so without some serious heroics on the part of their goaltender. Under siege most of the night — including a third period that saw the Heat outshoot the Comets 13–2 — Joe Cannata made 35 saves for unanimous first star honours.
No, the Heat this season haven't had to wring hands as they've done in the past about the number of pucks hitting the backs of the net. What they have worried about, though, is the ever-dwindling number of bums in seats at the Abbotsford Entertainment & Sports Centre.
More after the jump.