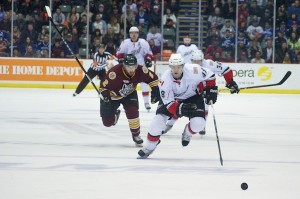 Pucked in the Head is happy to have the one and only Kennedy Goodkey guest posting for us this evening. Please hold your applause until the end of the introductory paragraph. Mr Goodkey has joined us for a couple of podcast episodes in the past, most notably in Top 7 Canucks Nicknames, Part I & Part II.
This marks the first time he has trekked up the road to an Abbotsford Heat AHL game, and it happened to be on the very day that NHL hockey was officially announced to be coming back from the lockout. He decided to record a running commentary of the evening as he went, warts and all. By 'running commentary', I mean just that. He goes from folk rock to sports aha-moments to popcorn in, dude, mere seconds. And by 'warts and all', I mean 'complete with double spaces after periods, like some retired receptionist who still thinks Robert Goulet is just the dreamiest. I can say that because I am, in fact, Robert Goulet.
Not to take anything away from Kennedy's usage of the word 'antipodal' — which is awesome, by the way, my favourite part is when he writes, "I must be some kind of elitist hockey-jerk." But don't let me spoil everything for you. Have a gander after the jump, and enjoy! Just remember that Mr Goodkey's opinions are entirely his own, and with the exception of his loathing for the song Cotton-Eyed Joe, they do not reflect the deep, inner love and respect for all human life levels of hockey that Chris Withers and I hold dear.
— Jason Kurylo, who is, like, totally bogarting Kennedy's opening
Continue reading A Little Bit of Id Salad, by Kennedy Goodkey →