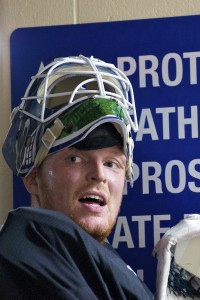 Coming into the 2013 season, Cory Schneider looked forward to his first action as an NHL starter. Halfway through his first game as the #1 guy in Vancouver — a game that was essentially a pre-season game, just with points that count in the standings — he had let in five goals on 14 shots, and the guy wearing #1 on his back was taking over the crease.
Immediately, people all over Twitter, on radio call-in shows and even in the booth on CBC's Hockey Night in Canada started talking about goaltending controversy in Vancouver. What they didn't talk about was the invisibility of Alex Burrows, the ineffectiveness of the second and fourth lines, or the shakiness of the "deepest defensive corps in the NHL".
But yeah, goalie controversy, right? We thought we'd look at each goal one at a time to determine just who the goat and/or goats were. Here it is, right after the jump.