If there remained any doubt about who the Vancouver Whitecaps' most valuable player is in 2014, tonight's match removed it. The Caps returned to the Stubhub Center on Saturday evening without standout defensive midfielder Matias Laba, who served his one-game suspension for yellow card accumulation. The difference was stunning.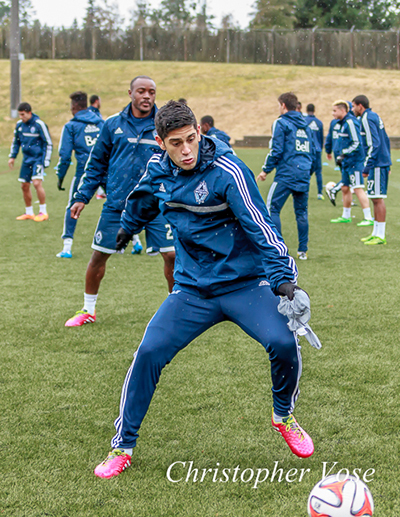 Without Laba, and with Gershon Koffie still nursing an ankle injury, the Whitecaps resorted to a defensive midfield pairing of Russell Teibert and Mehdi Ballouchy. The result was an underwhelming, listless performance in a 2-0 defeat to the LA Galaxy. It was arguably Vancouver's worst performance of the 2014 campaign.
Laba's absence seemed to affect the Whitecaps in a way no other player's absence has so far this year. They missed his timely interventions, and the way he so casually turns the ball up field without immediately conceding possession.
Without him, Los Angeles roamed through Vancouver's half with impunity, the Caps utterly unable to dispossess them. Even when the ball miraculously ended up on the foot of a player in blue, the clearances were uninspring. Ballouchy and Teibert often resorted to farting the ball in the general direction of Darren Mattocks, hoping he would be able to win an aerial duel. I am unable to recall him doing so.
The highlight of the game was getting a look at both of the club's latest acquisitions, with Kendall Waston and Mauro Rosales both making second-half appearances. Though neither was able to make a difference on the scoreboard, both showed glimpses of why Carl Robinson brought them in. Waston set up Vancouver's best scoring chance of the night, with a nice little touch to Mattocks, while Rosales had some promising possession on the right.
The lowlight was a ridiculously bad tackle from behind late in the game by Johnny Leveron that drew a straight red. Though it certainly didn't affect the outcome of the game, Vancouver having rolled over long since, the mistake could be exceptionally costly for Leveron, as it opens the door for Waston to start in his natural centre back position next week. It would not surprise in the least if the big Costa Rican took the spot and did not relinquish it.
Up next for the Whitecaps is a potentially Cascadia Cup-clinching derby at home against the Portland Timbers. Fans should keep their fingers crossed that the return of the young Argentine turns around the dreadful form the team was on tonight.