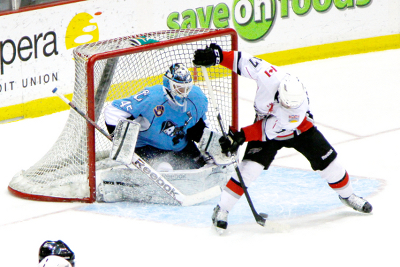 The Abbotsford Heat won their fourth game in a row with a 2-0 victory over the Milwaukee Admirals at the Abbotsford Entertainment and Sports Centre on Sunday afternoon. Barry Brust, fresh off being named to the AHL All-Star Game being played in a week's time, collected his fourth shutout of the season.
It was a good end to a 10-game home stand for the Heat, who had at one point fallen from first overall in the American Hockey League to eighth in the Western Conference. With the perfect weekend against the Nashville Predators farm team, the Heat now have 49 points in 40 games, good for fifth in the West. They are tied in points with the North Division leading Toronto, but have played two more games than the Marlies.
The Heat got goals from forward Krys Kolanos and blueliner Brett Carson, the same two goal-scorers from the previous night's 2-1 victory over the Admirals. Below you can listen to Carson's post-game reaction from that game. It marks two goals in two starts for Carson, who took 34 games to score that many in the AHL last season. Both players were on the bubble of making the opening night Calgary Flames roster, but were late cuts in the shortened training camp once the NHL lockout ended 10 days ago.
More pictures and video after the jump.

Continue reading Photo Gallery – Abbotsford Heat vs Milwaukee Admirals →