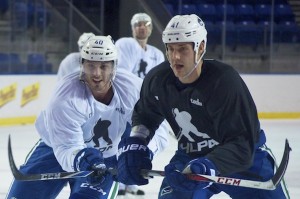 I was at a Vancouver Canucks practice earlier this week, and got a few good shots I'd like to share.
But first, why not support some other teams around town this weekend? (Well, any weekend, really,  but I'm posting this on January 11, 2013.)
Friday, January 11:
• The Abbotsford Heat host the Canucks farm team, the Chicago Wolves, tonight at the AESC. At last check, a few tickets were still available.
• The UBC Lady Thunderbirds host the University of Lethbridge Pronghorns at Thunderbird Arena (the very place the Canucks have been skating throughout the clusterbleep lockout.)
Saturday January 12:
• The Vancouver Giants host the Kelowna Rockets on Saturday, January 12 at the Pacific Coliseum.
• The Lady Thunderbirds go against the Pronghorns for the back half of their weekend double-header.
• The Heat host the Wolves again in Abbotsford, but that game is sold out.
Photo gallery after the jump.