If July 1 brings talk of trades, arbitration and free agent contracts, then August 1 is when hockey fans get down to the serious business of being impatient pricks on Twitter.
Goodbye, Bonino Phone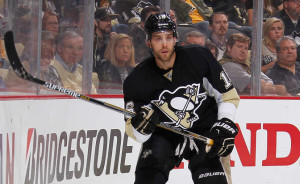 The Canucks sent Nick Bonino and prospect Adam Clendening to Pittsburgh for career third-liner Brandon Sutter. On the whole, people in Vancouver were not happy. Imagine the sadness emanating from the Raffi household, for example. There just wasn't time to record that Boninophone track that dammit should have happened no matter what you say, and BOOM, the Canucks essentially traded Ryan Kesler to the Ducks for Brandon Sutter's 3rd line minutes.
Of course, once Bob McKenzie confirmed the trade, hand-wringing, hair-pulling and all-around whinging ramped up in seconds.
@Kent_Wilson The best part is that it's becoming more likely that the Canucks saw Sbisa as the central piece in the Kesler deal.

— Steven C (@Memoria_Vetusta) July 28, 2015
CANUCKS GOT BRANDON SUTTER ARE WE TRYING TO MISS THE PLAYOFFS WTF

— Tim B (@TB_Money) July 28, 2015
YVR haters don't even stop when a player leaves the Vancouver roster. Ex-Canuck and Scrabble aficionado Tanner Glass takes one on the jaw in chart form: the Glass-to-Crosby scale, based on production vs possession, favours the Penguins. Fancy stats people tend to dislike Sutter, generally speaking.
Brandon Sutter vs. Nick Bonino on the #GlassToCrosbyScale pic.twitter.com/ItFJCFJYaS

— Domenic Galamini (@MimicoHero) July 30, 2015
Brandon Sutter vs. Nick Bonino on the #GlassToCrosbyScale pic.twitter.com/ItFJCFJYaS

— Domenic Galamini (@MimicoHero) July 30, 2015
Cooler heads made an appearance, too. (Jeez, I can't believe I'm on the same side as Tony Gallagher on this one. The difference? I make more hockey-related supporting arguments in 121 characters than ol' Radio Face does in 500 words.)
I like the acquisition of Brandon Sutter for the #Canucks. Good grit and flexibility to play middle six minutes & PK/PP2.

— Jason Kurylo (@PuckedInTheHead) July 28, 2015
Gallagher: Brandon Sutter deal one of the best in #Canucks history http://t.co/9pQsLHZDQp

— Province Sports (@provincesports) July 31, 2015
As always, the jury is out until we see results on the ice. But let's be honest: the Vancouver Canucks are not going to play an entertaining, up-tempo brand of firewagon hockey, a la 2011. Brandon Sutter gives them some consistent sandpaper, however, to compete against a never-say-die Flames squad and those dirty, rotten, stinkin' bastards who call themselves the Anaheim Ducks.
Current crop of Canucks lacking personality
Vancouver fans are still stinging from the dump of Eddie Lack's meagre salary.  Do I think he's a number one goalie? No. Should he have been given away for meaningless late draft picks? No way, Jose. There goes our boy Ed showing off his new pads, which alas feature the Carolina Toilet Flush:
New pads are DONE! Thanks to the best goalie brand in the world @goaliesonly for providing me with… https://t.co/s5KTt6BRpO

— Eddie Lack (@eddielack) July 29, 2015
For those who don't like to gram the insta (did I do that right?), those pads look like this: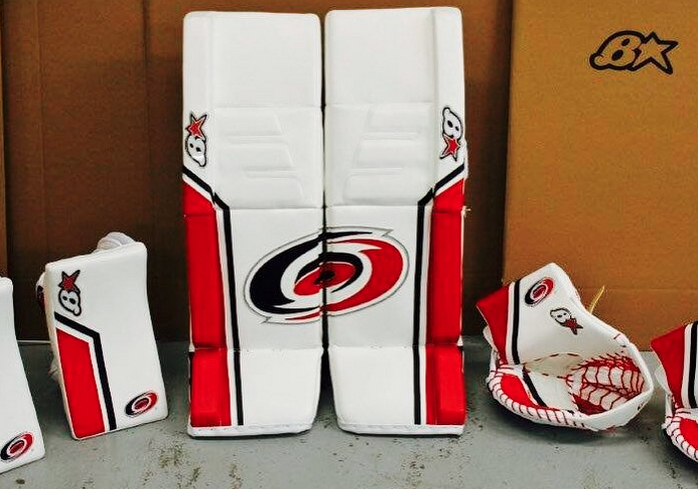 How many goalies will paint the Great Wall on their masks?
The 2022 Winter Olympiad will be held in Beijing, which means the NHL will be under more pressure to extend its agreement to allow players to play for Olympic gold. There's so much money involved in China, both above board and under the table, that not even Gary Bettman can let ego get in the way of a deal.
If you thought Puck Daddy's Jersey Fouls posts were entertaining before, wait until you see a generation of new fans wearing counterfeit Team USA Crosby sweaters.
I only hope Dave Bidini, he of the wonderful book Tropic of Hockey, gets a piece of the action somehow. Outside of ex-pat teachers lacing up the skates in backwater rinks of Mongolia, ol' Dave was the first person to give hockey in Asia any serious attention.