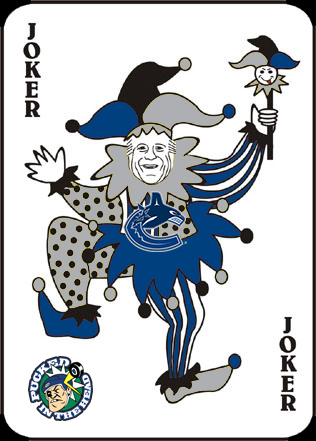 When the Vancouver Canucks won their fourth straight game Sunday night, they did more than just beat the Colorado Avalanche. They moved into sole possession of the second and final Western Conference wild card spot.
Gone are the days these Canucks could bank on a post-season berth for steamrolling their sadsack Northwest Division brothers. Sure, the Oilers and Flames still stink like day-old skunk sandwiches, but in the realigned NHL, the Canucks have to catch one of Anaheim, LA or San Jose for a legitimate Pacific Division playoff spot.
The win was no easy feat. Sure, Vancouver has spanked the Avs over the past few years — losing just once in ten tries, and that was in extra time. But this year's Avalanche look very different under head coach Patrick Roy. Ignoring that 8–2 loss to Edmonton the other night, Colorado has been one of the league's eye openers this year. They've got ten road wins already, more than twice what they picked up last year and three more Ws than the Canucks have earned at home so far this year.
It wasn't pretty, but the Canucks managed to hold the fort. When they took a 1–0 lead into the third period, those who had managed to stay awake through forty were pleasantly surprised. First Ryan Kesler donned the cape to double the lead, setting up a scoring chance from behind the net before shovelling in a rebound from the blue paint. Then Mike Santorelli sniped his second of the night, a gorgeous shot top cheese on a 2-on-1. (This shouldn't shock anyone, as 'Santorelli' is of course Italian for 'roof daddy'.)
More after the jump.