Just as a handful of west coast NHL teams are making noise about establishing a Pacific Division with their respective AHL affiliates, the city of Abbotsford has elected to terminate their relationship with the Calgary Flames. April 13 saw the final regular season game at the AESC on King Road, a 5–4 overtime loss to the Oklahoma City Barons.
With the exception of four games during the NHL lockout, the Battle of Alberta had never managed to inspire box office success in the Fraser Valley. Last weekend saw a minor uptick, with the official attendance landing just north of 5,000. Sadly, the team's average this year was nearly two grand fewer than that, which puts the City of Abbotsford on the hook for millions of dollars of guaranteed revenue support to the team. So yeah, instead of paying an uncertain sum at the end of each season for the next five years, Abbotsford will fork over $5.5 million here and now to have the team just… go away.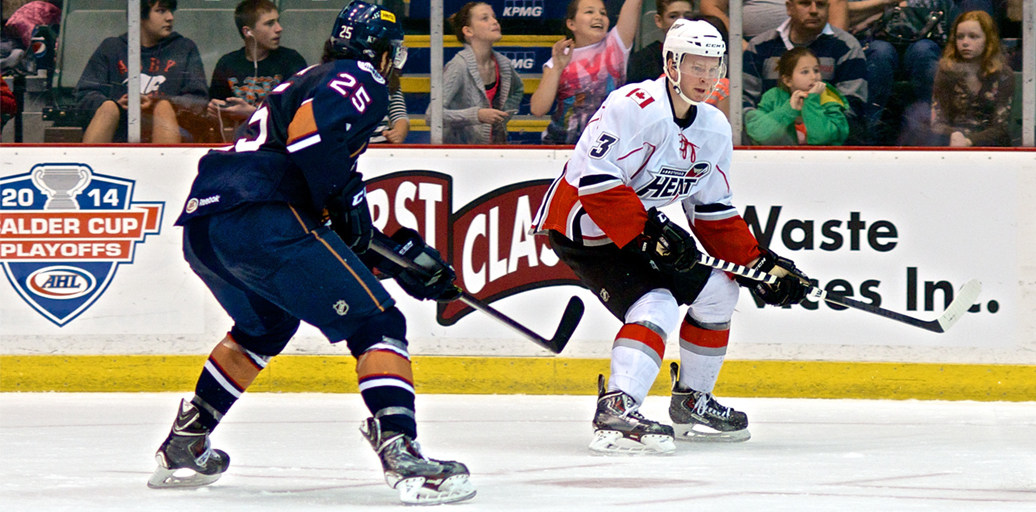 Does it matter that the Heat are on their way to the post-season? Is it important that blame can be thrown at everything from poor marketing to even worse public relations, from to smalltown politics to a bizarre, small-minded Canucks-or-nothing mindset in the Vancovuer area? No, nope, and nuh-uh. Sayonara, American Hockey League. Abbotsford City Council has homeless people to shame over here — they don't have time for you any longer.
On the ice, the Heat have won eight of their last eleven, and hqve now tied their best-ever point total (92). With a tie or a win on Saturday, they'll be saying adios after a franchise record under their belts. This despite sending record numbers of prospects up to the big club during a rash of injuries in the Calgary Flames locker room for extended periods this season.
This slideshow requires JavaScript.