It was a disappointing day by many standards. The Vancouver Whitecaps, sitting atop the MLS standings, hosted the dirty, rotten, stinkin' Seattle Sounders. A win would mean a third straight Cascadia Cup for the Caps, and put a dagger in Seattle's  attempt to revive a lacklustre season.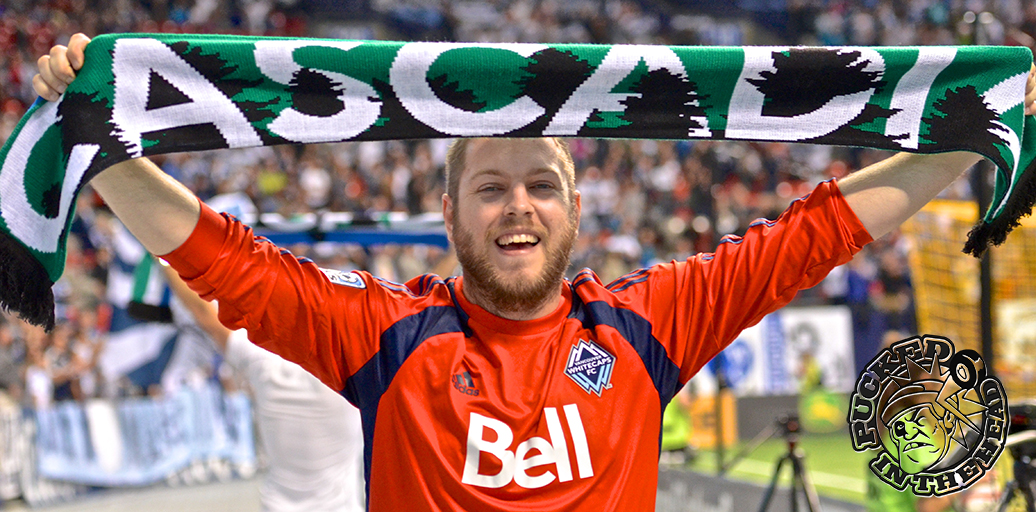 Instead, the boys in green and blue beat the Whitecaps at their own game: they sat back and let Vancouver come at them, and waited patiently for opportunities to come on the counterattack. At the end of the day, the Whitecaps are still the class of the Western Conference and sit tied for top spot in MLS — thank you, woeful Real Salt Lake for pummelling the LA Galaxy when we least expected it.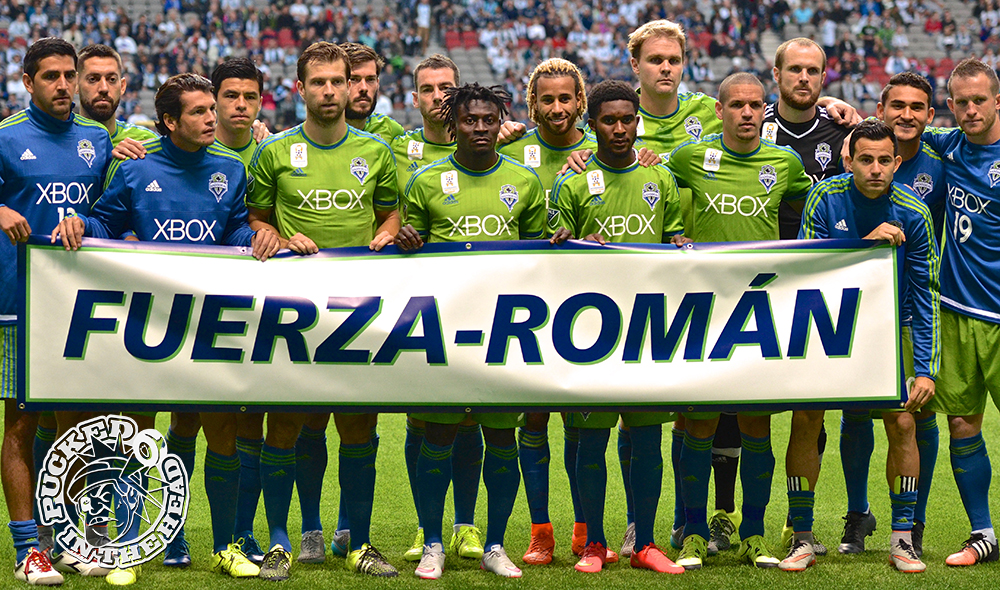 The season series between Seattle and Vancouver has seen home teams struggle. The Sounders won 2-0 here back in May, and the Caps put in one of their most complete games at Century Link with a 3-0 victory on August 1. The latter was a low point in the Sounders season, with coaches and players sniping at each other after the fact for poor preparation and effort levels, respectively.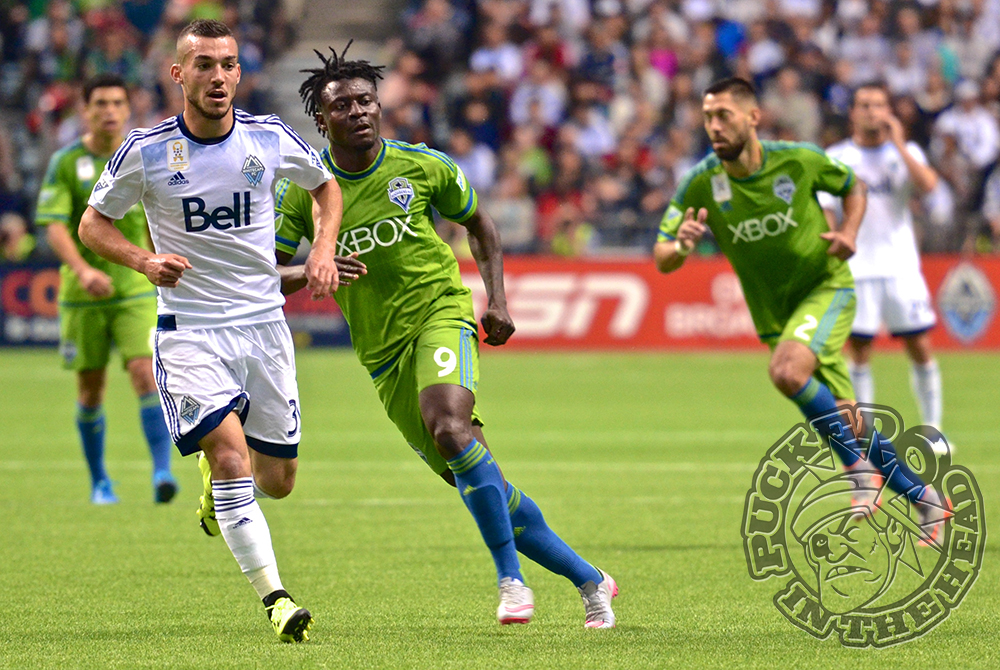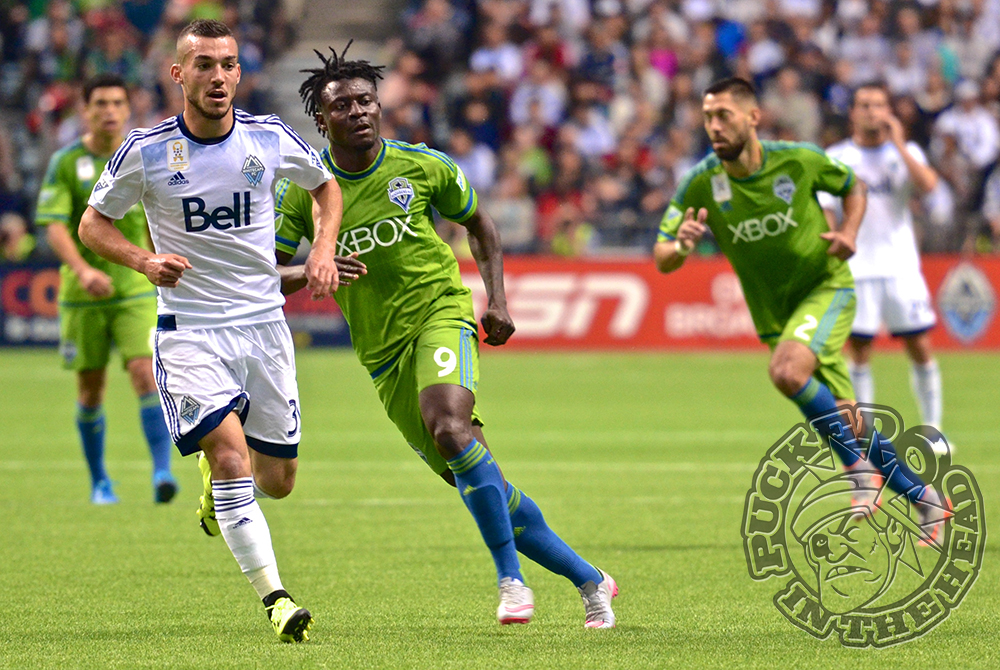 Saturday offered a much more balanced game, but it was Seattle who took advantage of their chances. Octavio Rivero had several opportunities early in the first half, including a glorious clean shot at goal from ten metres, but put the ball high and wide every time. Every other shot toward Stefan Frei was pretty much a gift to the Swiss-born keeper. (I can think of perhaps two saves that required him to actually move.)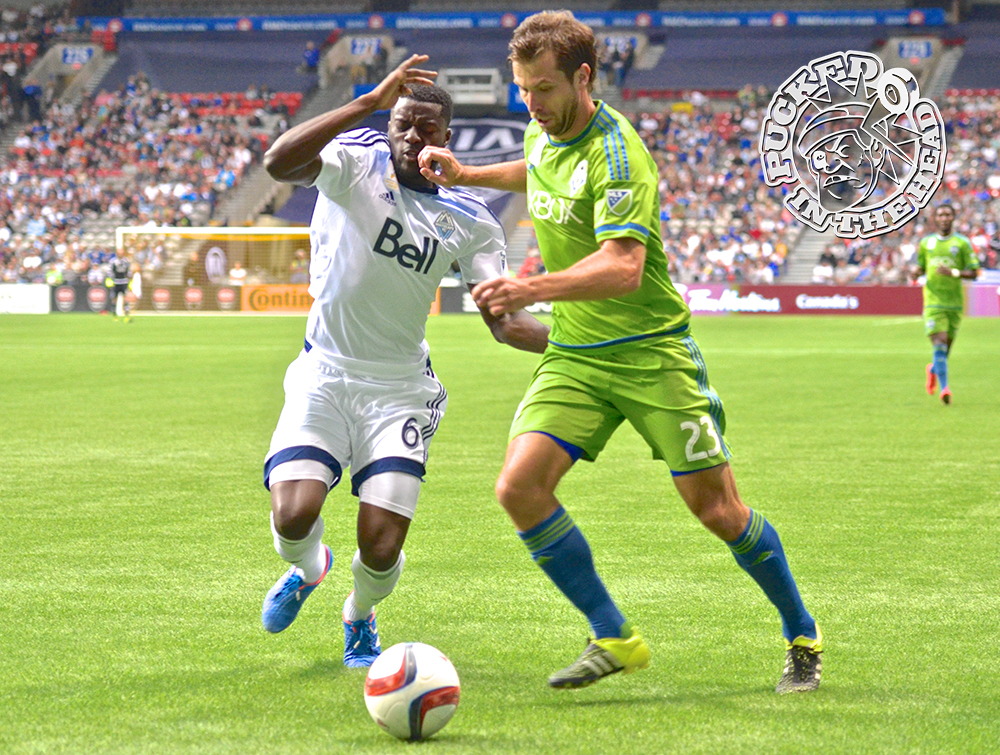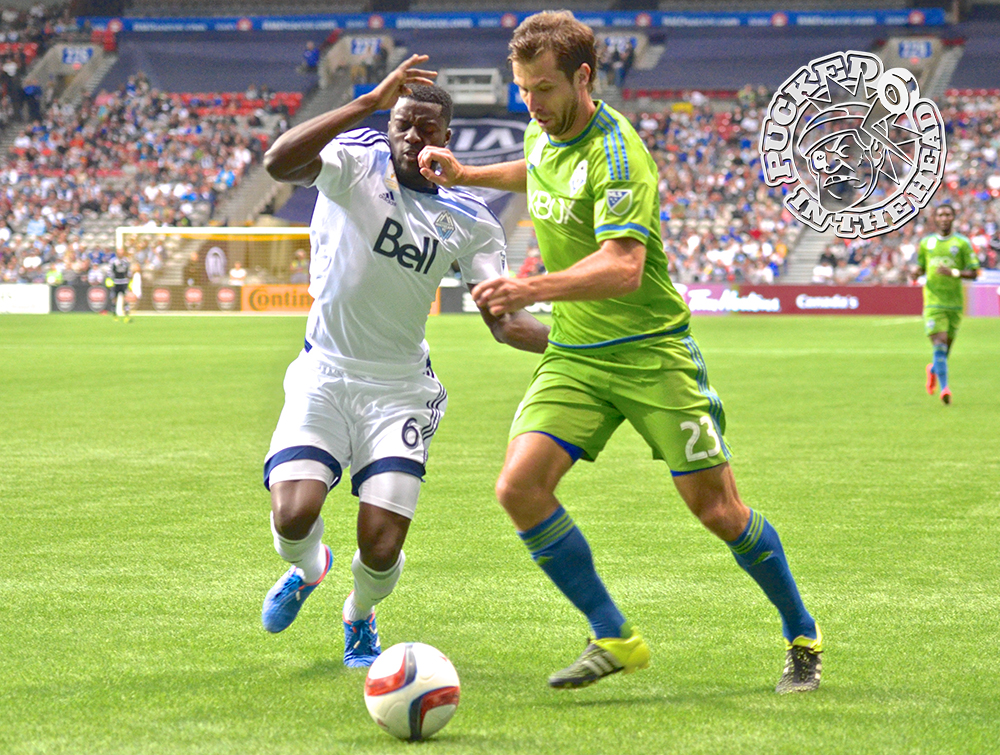 Then, seconds before the halftime whistle, Obafemi Martins dribbled away from four white jerseys and put a perfect aerial pass on the foot of striker Andreas Ivanschitz, who had snuck in behind rookie defender Jordan Smith. The  German with rather predictable sophomoric nicknames slotted the ball neatly behind David Ousted to open the Sounders account on the evening.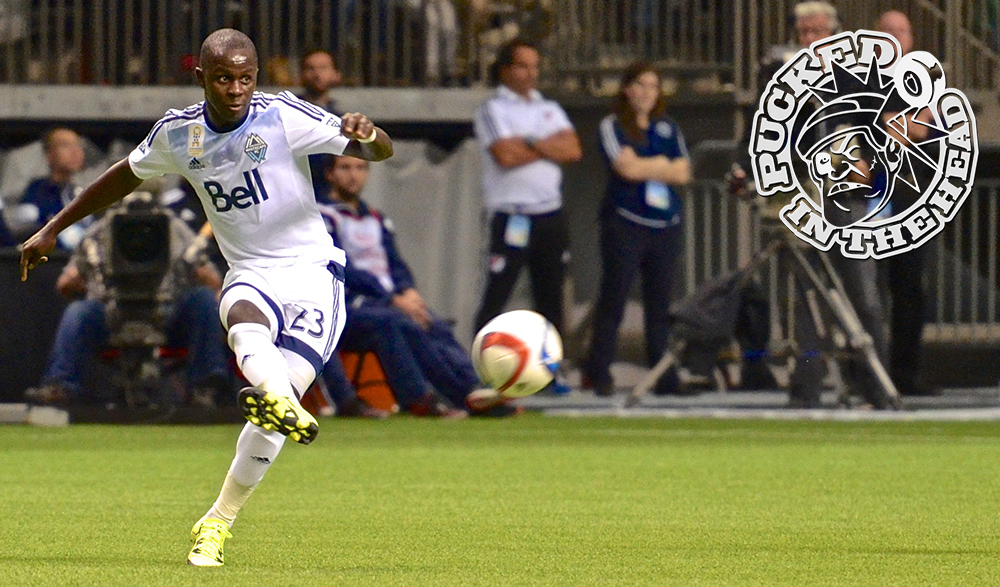 The Caps pushed for the equalizer throughout the second half, but that opened them up to yet more fast breaks the other way. The Sounders waited for their chances, then buried them. Love him or hate him, Clint Dempsey is one hell of a player when he keeps his head about him. Yes, he spends an inordinate amount of time whining to referees — more on these antics below — but he also spent this entire game feathering one-touch balls and delicate passes to his mates, giving the Whitecaps midfield fits at times and directly resulting in two of the Sounders goals. He fed Gonzalo Pineda with a lovely pass at the lip of the box, and Pineda put a perfect shot off the post and in to double the lead in the 71st minute. Sixteen minutes later, Dempsey outhustled Cristian Techera — yes, you read that right, he outran the Bug — before sliding a gimme to Martins for the 3-nil scoreline.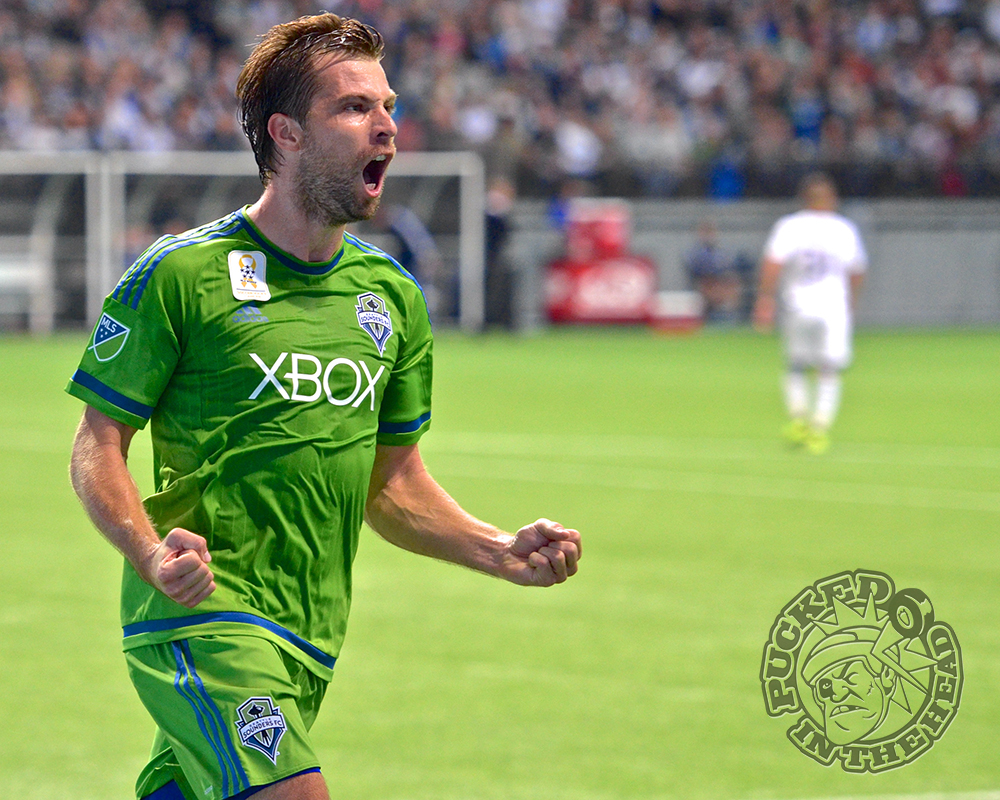 For many, however, the biggest disappointment didn't happen on the field of play at all. Longtime season ticket holder Christy Clark created quite a stir on our local corner of the interweb, as she tried to poke fun at the Flounders' proclivity for lying on the BC Place turf nursing non-existent injuries. Sadly, her old-timey insistence upon using girly references to insult male athletes kinda backfired.

Did the Sounders spend a lot of time with their butts glued to the turf? Yeah, sure they did. Were fans rankled and riled about it? You bet your Southsiders scarf they were. Does that make it okay to throw sexist jabs around in a public forum, when you're an elected official, and to boot a role model to women interested in entering politics? Absolutely fricking not.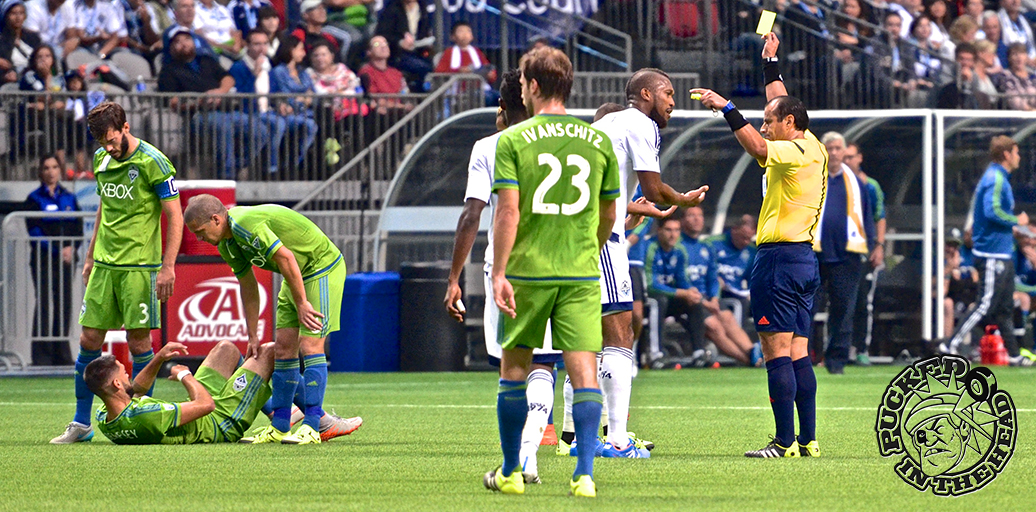 The BC Premier is no stranger to social media firestorms. She has nearly 51,000 followers on Twitter, and she upsets a great number of them with even the blandest of posts. In this case, however, folks really ought to get their hackles up. Clark is a self-professed champion of the anti-bullying movement — she helped to spearhead BC's involvement in Pink Shirt Day a few years ago, and continues to make public comments that pooh-pooh language, actions and systems that belittle or exclude portions of the populace.
Looking good! RT @pinkshirtday: Hey @VanCanucks fans! Check out Henrik Sedin's new #pinkshirtday shirt! pic.twitter.com/J2Mqs6PLCv

— Christy Clark (@christyclarkbc) January 29, 2014
Members of the Southsiders, Rain City Brigade and Curva Collective supporters groups all actively dissuade neanderthal members of their groups who denigrate women. Even five years ago, chants of "SHE FELL OVER" were commonplace when an opposing player hit the pitch. These days, references to gender and/or sexual orientation just aren't accepted any longer by BC Place supporter groups. (Note: Sadly, sexism is still rampant in the football world. The comments screamed at Chelsea medical staffer Eva Carneiro by opposing clubs have been atrocious. The Vancouver Canucks, and women's rights groups for that matter, have put up with dolts calling Henrik and Daniel "the Sedin sisters" from day one. Hell, the NHL even made an ad that featured Hank & Dank showing up for a fan's stag party as twin Swedish dancers
. Ice girls at men's games are the embarrassing norm, when teams should be putting resources into setting up a serious women's pro league. The sad fact is, loads of sports fans turn their noses up at the prospect of watching professional women's sports — the Women's World Cup drew fans, but YVR is still without a women's Whitecaps team. At least in Vancouver, widespread homophobic or misogynistic jeers aren't the norm. Clark's tweet is harmless on the face of it, but flies in the face of very anti-bullying campaign she claims to honour.)