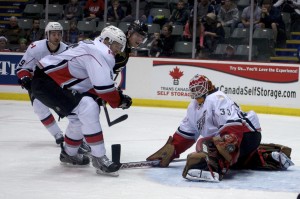 On Saturday night at the Abbotsford Entertainment and Sports Centre, the hometown Heat used the ol' shootout to decide the second half of a back-to-back against the Texas Stars. All-Star goaltender Barry Brust made 39 saves on 40 shots for the 2-1 win — like this one during a first period that saw the visitors gain a 17-9 advantage on the shot clock. Below you'll find a plethora of pictures from the game, including a still from the winning shootout goal by Krys Kolanos.
For a complete game summary from my compatriot Chris Withers, look here.
Scads of pictures after the jump.

Continue reading Photo gallery – Abbotsford Heat vs Texas Stars →