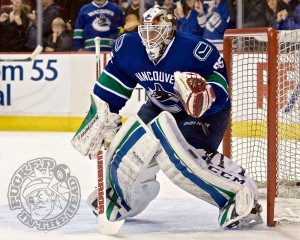 If you're one of the fifteen people who regularly attended Abbotsford Heat games, you're not surprised to learn that this Jacob Markstrom kid can tend goal. See, before he took the Utica Comets to the AHL championship series last season, Markstrom played three full seasons in the Florida Panthers system (with the Rochester Americans and San Antonio Rampage). Despite lacking a nickname of any sort, Jacob Markstrom seemed to have the local boys' number.
Here is where a thoughtful writer would put in some research to get actual statistics, but I'm going to eschew that process in favour of made-up stuff. And I'll also throw random nicknames at the wall in hopes something sticks. Jacob took two-two points out of the Valley like no hooded fang's business. The Man They Call Mister Marley beat the Heat no fewer than 157 out of 158 games at the Abbotsford Sport and Entertainment Centre over a three-year period, and earned no fewer than seven thousand shutouts.
Okay, so numbers aren't my strong suit. Suffice to say, the boy can play.