Whatever playoff aspirations still existed in the Vancouver Canucks dressing room — misguided, maybe, but they were there — must have taken a serious thumping during the third period of last night's 7-4 loss to the lowly, John Tavares-less New York Islanders.
Up 3-0 going into the final 20 minutes of the game, the Canucks managed to give up a converted touchdown in a single period for the first time since a kid named Wayne Gretzky swaggered into Vancouver with the dynastic Edmonton Oilers. And, as Ryan Kesler said of the present-day Islanders after the game, "let's face it, [New York] is not one of the top teams in the NHL. We had a three-nothing lead to start the third. This just can't happen."
Sadly, not only can it go down, Mr Kesler, but it did happen.  On home ice. During the stretch run. Less than a week after the GM traded away a future Hall of Fame goaltender.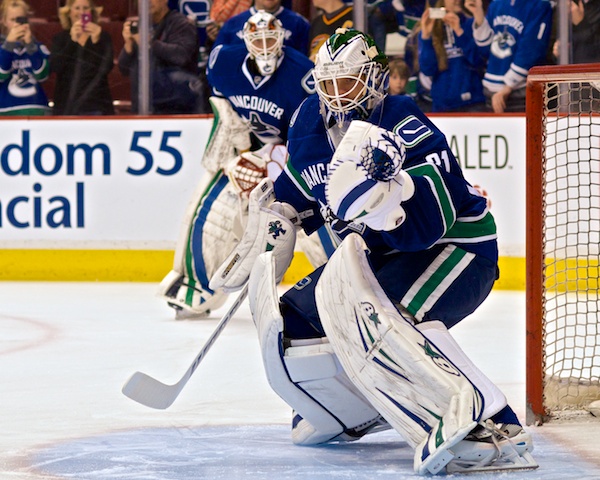 In the first two periods, the Isles had just nine shots on goal. Fast forward twenty minutes, and they had nearly that many goals.
Sure, there were positives. Henrik Sedin got a lucky bounce off an Islander defenceman — lucky bounces have been few and far between for the Canucks of late, but it marked the first goal in 23 games for the captain. Alex Burrows didn't get off the gorilla-choking, gut-twisting schneid he's been riding all season, but he did get awarded an apple on Ryan Kesler's 22nd goal of the year. Replays show Burrows gave a swing and a miss when Kevin Bieksa's shot from the slot pinged off the post, but when Kesler put it home, the scorekeepers gave Burr the phantom assist for his 300th career NHL point.
But let's not kid anyone. There are no moral victories in a game that goes that far south that quickly. Less than five minutes of gutless, idiot play in the third period undid 40 minutes of solid two-way hockey. Dumb penalties from Jensen, Bieksa and Sestito translated into a tie game within minutes of the third period puck drop. Add a couple that Lack would like to have back, and the Isles put a pick-six on the board before the third was halfway done.
The Canucks collapse, though, wasn't half as scary as what awaited Eddie Lack in the dressing room.
ZOMBIE GALLAGHER!!! SAVE YOURSELF!!!